Tuesday 23rd September – Friday 3rd October 2008
My fabulous friend, Naz, arrives for a holiday. We met many moons ago when we both worked at the BBC, hit it off straightaway as we both have the same work ethic and outlook on life, and have thankfully stayed friends ever since. She is bubbly, confident, attractive and completely bonkers with a heart of gold! It's brilliant to finally have a visitor I love coming to stay.
We do the usual trips: Mount Takao, Hakone for the black eggs, Yoyogi park and Shinjuku Gyoen where we fed the turtles and giant koi in the lakes.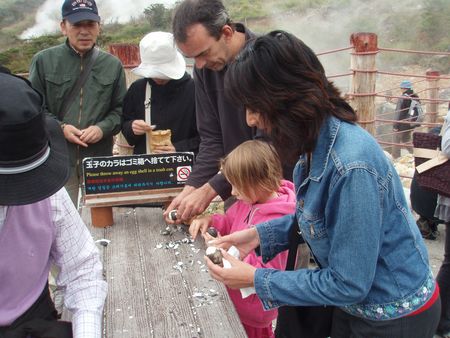 I also introduced Naz to the coffee morning girls and Yoko joins us for a walk around Omotesando.
Yoko reserved us a seat at a rather special sushi restaurant, a 'proper' one – not a tourist one. You can tell it's a good restaurant because they don't have the disposable cheap pale wood chopsticks that you have to snap apart before using. The chopsticks were smart, made from mid-coloured smooth wood and when we had finished our meal, they were cleaned and handed to us as a gift.
It never fails to amaze me how much food Naz can put away yet still remain willowy slim. Yoko and Naz order a set dish of sushi with rice, but I can't eat 12 pieces of sushi as well as a huge bowl of rice so I chose a small set menu of sashimi with rice. We sit at the counter in front of the display cabinet. Right in from of me is an enormous sea snail thing, still alive, on its 'back' – not sliding around the cabinet. I'm not squeamish, but certainly didn't want to eat it! The fish was the most delicious, melt-in-the-mouth sashimi I have ever had – before or since. (The restaurant is no longer there, sadly.)
There was an intriguing slab of a very dark meat that I thought may be horse. So Yoko (being the only Japanese speaker) asked what it was. The chef looked rather anxious for a moment before replying, "Whale".
Oh!
From the chef's expression I presumed he was expecting uproar from the two gaijins in his restaurant. Now, I do not condone the killing of whales, but I am certainly not about to kick up a fuss about another culture's cuisine – there are far more animal-killing problems in the world. The sickening dolphin slaughter here for one, the killing and torturing of numerous endangered species for so-called medical purposes, and many, many more. Check out Whales, Whaling, Dolphin Hunts and Japan for more information on the industry here.
Anyway, I ordered a few slices of whale. I didn't kill the animal, it was already done. And I wanted to try it because I'm like that – a bit of bravado. I've eaten all kinds of weird things – guinea pig in Peru, llama in Bolivia, bug stew in Venezuela, and besides, many people think eating raw fish is disgusting… And yes, I would have eaten it if it was horse, too.
It wasn't nice, to be honest. Partly knowing I was eating whale and partly because the texture was rather heavy I found it quite unpleasant. It was very rich and afterwards I felt a little queasy.
But a new experience as often as possible is my motto.
After our interesting lunch we wandered down Omotesando looking in the shops. While I'm a handbag and jewellery addict, Naz is a shoe addict. And Jimmy Choo's shop was right there. It's quite daunting to enter designer shops in the UK - not sure why, but it is. Over here, it's absolutely fine. So Yoko and I forced Naz inside. I drooled over shoes I could never possess - they're too small and narrow for a start, and I can't wear heels.
But we 'forced' Naz to buy a pair! Well, we persuaded her to hand over her credit card after she found the most delicious pair of super-sexy shoes with vertiginous heels, in her size and actually cheaper than she would find in the UK.
What a souvenir!