October 2007
Although I am incredibly busy with work, I do manage to make time to attend a couple of classes. Not language training, sadly – this requires too many hours for me to commit to.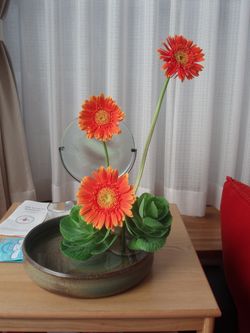 Of course I continue with my Ikebana. I've got the bit between my teeth now and am really enjoying myself. Finally, I can make flowers look pretty in the vase!
Also, I went to a Cloisonné enamelling class which was rather fun and left me with a very amateur pendant and a small, rather attractive but ultimately useless pill box; and a yearning to get my own kiln!
Another "class" I went on was a field trip to an antique Imari porcelain shop. Well, I say "shop" but after meeting the group at Shibuya station (a miracle in itself!) several changes of Metro followed by a bus journey and a long walk, we ended up climbing a couple of flights of stairs in an anonymous tower block to a room containing a fine selection of small items.
The other members of the small group were all American and snapped up some interesting (to them) cups. They were made for the export market and if you held the cup to the light, the gently carved face of a geisha shone through the translucent china. They were marked "Made in Occupied Japan". Ouch!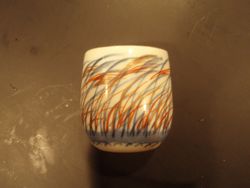 The others pretty much swept the shelves clear, grabbing everything they could – especially the most expensive stuff. But for relatively little outlay, I managed to snag a nice little cup with paintings of Susuki - Japanese pampas grass - which is a favourite theme of mine, a nice rice bowl with circular emblems and a dinky little plate with unusual markings.
I am pleased with my little collection and even more so when the owner of the shop told the leader that out of all the buys, mine were the best and classiest choices.
Me smug? Yeah, a little bit!