Tuesday 3rd April 2007
It's my birthday today. I don't get a cake, but I do get to eat black eggs!
Tim's taken a couple of weeks off work so we can get out and about with Mum and explore some other parts of Japan. Lots of trips out of Tokyo are planned.
Today we went to Hakone, a popular day-trip destination less than 100 kilometres from Tokyo. Hakone is famous for its onsen, or hot springs, as well as being a site of natural beauty and real countryside.
Now, about onsen. I would love to visit one of these public hot springs but I am not allowed. Why? Well, I have tattoos which are well and truly banned. Incidentally, I am also not allowed to go to swimming pools and gyms, neither of which I am bothered about. Why are tattooed people forbidden from onsen? It stems from the banning of members of the yakuza - mafia-type gangs - who are covered in beautifully worked ink. Even though, by dint of being female and gaijin I cannot possibly be a member, my ink disallows me from baring myself to the Japanese world. Ah well.
We went by car and the journey took around two hours along toll roads that are easy to navigate with numerous well-equipped service stations. These service areas are great. Banks of vending machines dispensing every kind of drink and even hot food. Clean and vast toilets with a choice of cubicle - Japanese, Western, and even double cubicles with a normal sized convenience and a kid-sized one! Plenty of dogs to watch - there are even facilities for them with dog runs and water bowls. A huge shop contained something very rare and most welcome - a bakery. How I've missed decent baked goods! We stock up on plenty of rolls, doughnuts, Danish pastries and other items to eat en route.
Once at our destination we didn't really have plan but soon realised that the main attractions are lakes and mountains. Unfortunately the weather turned nasty and we were engulfed in a thick dank fog. So none of my photos are good, sorry.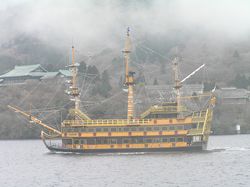 Lake Ashi was our first stop where we took a boat trip around the vast lake. To our amazement we spotted three colourful 'pirate' ships; replicas of British ships complete with masts and figureheads looming out of the mists. We also saw what appeared to be a paddle steamer. What a shame we were on the only 'ordinary' boat on the lake. They were all tourist boats ferrying people back and forth to various destinations. Apparently you can see Mount Fuji from here, but the fog meant we could barely see the other side of the lake. On one side of the lake is the entrance to one of the most photographed shrines in Japan with its picturesque bright red torii gates placed in the water.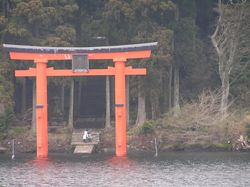 Returning to shore and our car we were lured by signs leading to something called "The Great Boiling Valley". With a name like that, we just had to visit! Following these signs led us up a mountain called Owakudani which is a volcanic hotspot full of bubbling sulphurous springs and fumaroles. A number of cable cars or ropeways were taking people some of the way but we drove and parked in the convenient car park near the top before walking the rest of the way.
This fascinating sign greeted us at the exit from the car park before walking up the mountain.
We decided to brave the dangers and headed up the path through the pungent air where we came to an area of boiling pools of milky blue-green water. Around one of the pools large metal boxes were immersed in the hot water. Leading up to this was a pulley system bringing boxes of eggs up from the town at the base of the mountain. These eggs were then plunged into the boiling water and sold in bags at a nearby kiosk. Although they are normal chicken eggs their shells are turned black by the chemicals in the water. These black eggs are extremely famous here and according to Japanese legend they increase your lifespan; for each black egg you eat another seven years is added to your life.
Another typically translated sign: I think it apologises in advance if there are no eggs available.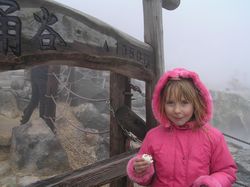 Solid wooden tables surround the kiosk, each one encircled by dozens of people bashing the eggs and peeling off the shells.
A sign nearby showed that we had climbed to 1050m above sea-level.
We ate lots of eggs and very delicious they were too. Good to know we'll live longer for eating them - with the number we've eaten we're probably going to be immortal.