Thursday 5th April 2007
Another day trip planned. Today we go to Mount Takao, a sacred mountain with stunning scenery, rare woodland walks and a temple complex.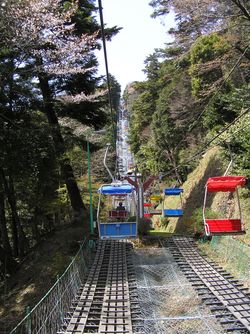 The peak is nearly 600m but most of this walk can be avoided by lazy people (like me) by taking either a funicular railway or a chairlift. We took the chairlift, which quite frankly, terrified me. Similar to those found at ski resorts, you line up and wait for the chair to hit the back of your knees before sitting down and hoping for the best as there is no bar to hold onto and the seat is very narrow. Making everyone else go ahead of me seemed the best way to prevent them seeing my fear. I clung on for dear life and forced a smile each time Rhiannon turned around to wave. "Why don't you wave back, Mummy?" Eek! I did manage a quick photo which may be a little shaky.
Rather than hovering high above the ground, a fairly secure-looking net covered the area just below the seats. Just as I was relaxing into the ride I noticed that in some places the net was alarmingly close to my feet. Just in time, I lifted up my legs so as not to be catapulted out of the chair. This game made the ride diverted my terror and was quite entertaining but meant I missed a lot of the view.
The chairs are painted cheerful primary colours and the trip was extremely peaceful apart from the tinny music drifting out incongruously from various places. Near the top of the ride a man perched on the edge of a cliff takes your photograph and, by the wonders of digital technology, the picture is waiting for you when you reach the top. At the end of the ride, polite gentlemen help you off the seat and away from the danger of the chair behind you, which was very welcome as my legs had completely failed to work due to sheer fright and the narrow seat had cut off my circulation.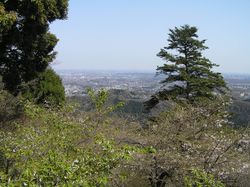 Hiking to the top of the mountain is actually very easy, even for children - and me - as the entire route is a paved road. For more interest, numerous 'off road' hiking trails exist which meander through a wooded nature reserve. Mount Takao is said to be rich in wildlife with over 1,200 species of plants, insects, birds and animals. Although many signs indicate the types of wildlife to be seen in the woods, such as flying squirrels, on my many trips there since this first one, I've never seen even a beetle. It seems to be a very sterile area lacking even birdsong. I suppose the wildlife is there, but maybe it stays deep in the woods away from the huge numbers of visitors that come to the mountain.
To our surprise, one of the first attractions we discovered en route was a monkey zoo. Japan has its own indigenous monkeys, Japanese macaques, and a community of them are housed in a small zoo here. We didn't visit as I don't like zoos.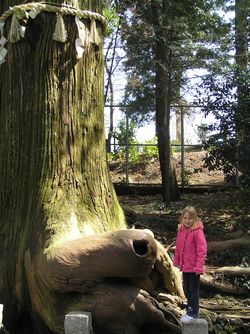 We passed by and continued up the hill, admiring ancient sacred trees wrapped in thick twine and festooned with folded white paper strips. The base of one enormous tree was worn smooth by countless hands patting it on passing.
Mount Takao has been a sacred place for over a thousand years and the beautiful Yakuoin Temple is found near the peak. Believed to have been built in 744, this temple is dedicated to a medicine Buddha, so many people with ailments or sick relatives visit to pray. A colourful set of buildings, the architecture is embellished with multicoloured wood carvings representing dragons, foxes and humans. Numerous statues surround the buildings and huge cauldrons filled with ash stand by the entrances to the many separate temples. You pay a few yen for a bundle of incense sticks, light them and place them in the cauldron to produce the 'holy smoke'. I wish I knew more about the workings of these fantastic temples. There are so many questions I have about everything, but nobody to ask.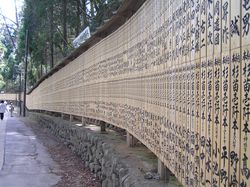 As we neared the temple, the road was lined with red lanterns and a stunning, yet completely puzzling array of wooden posts, each decorated with kanji. Although most of the writing was identical on each one, there were slight differences near the base. Regardless of their meaning, the effect was stunning.
Lots of stalls surround the temple, as is common at every place of worship here, selling charms and prayers specific to this particular place. I've started collecting some of these, just in case! I'm quite a collector… OK I'm mainly a shopaholic who can't resist retail therapy, especially after a scary chairlift ride.
We stopped for lunch at a small restaurant where the views across the landscape were incredible, with Tokyo visible in the far distance. Luckily for us there were a few tables with chairs so we didn't have to eat 'Japanese-style' – kneeling on the ground. We chose some sort of noodle bowl which Rhiannon and I thought was delicious. Mum had some difficulty using the chopsticks and Tim didn't like the taste.
After lunch, we continued up to the peak of the mountain to see the amazing views of the mountain range that includes Fuji-san. Then it was time to head back down the mountain with another "exciting" trip on the chairlift in order.
I contemplated walking down but decided to face my fears and to my surprise, thoroughly enjoyed this second ride.
Holy Smoke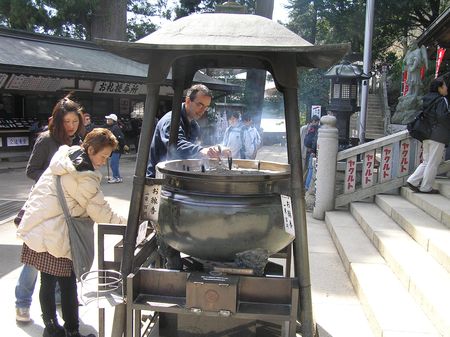 Temple Details