September 2007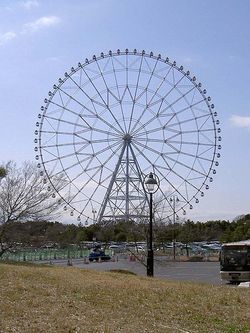 We take a day out to visit this enormous park outside Tokyo. It's easy to find as there is a huge Ferris wheel nearby which is called the "Diamonds and Flowers" wheel. This is because of the beautiful light show it displays at night. We always see it on our way back from the airport and it is stunning. Of course, I don't have a photo of it in all its glory, typical! Each rotation (apparently) takes 17 minutes to complete, which advertisers sell as permitting "maximum kissing time"!
The park is a nice reprieve from Tokyo with a lot of space for walking. It lies on the edge of Tokyo Bay so there's a fresh breeze coming in from the sea and plenty of people watching to indulge in as well as a sea bird centre which we didn't visit on this occasion.
The main reason for our trip is to visit the aquarium as Rhiannon is still hugely interested in sealife. Outside the aquarium was a huge wall of water which attracted children like bees to honey. She got soaked! But luckily it's still very hot in Japan at this time of year so she dried quickly.
The aquarium was rather spectacular with the largest fish tank I have ever seen. In it I was amazed to see Hammerhead sharks and many other huge fish, crabs and all sorts of creatures. There was also a vast hall with a tank all around the edge. This was the main tank and has a viewing area in the middle. You are surrounded by a wall of fish (tuna) going round and round.
Aquariums are something that Japan gets very right. They are way ahead of the rest of the world in managing to keep certain creatures in captivity where other set-ups fail. The tuna roundabout being one of them. They have also invented a special tank to display jellyfish which is absolutely fascinating. And I also saw a Nautilus in one of the aquariums here. Fabulous creatures!
While I enjoy visiting aquariums, all the lights and tanks do weird things to my eyes and give me a headache so I can't stay in there long. I made my way outside to wait for Tim and Rhiannon before I ended up with a migraine and lay on the grass outside with a tin of iced coffee from a vending machine. How very Japanese!
A lovely day out.