Sunday 3rd June 2007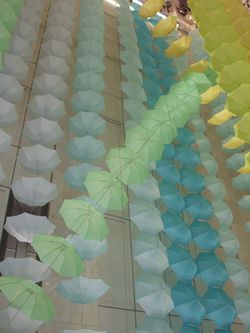 Japan has several extra seasons than the four we are used to. As well as Spring, Summer, Autumn and Winter, there is also the rainy season and the typhoon season. I think you can also count Hanami (Cherry Blossom time) as a 'season' as well as many other festivals too.
The rainy season has an actual, set start and end date! 8th June to 20th July.
Tsuyu is the Japanese name for the rainy season. It doesn't exactly rain every single day, but compared to the rest of the year, it is noticeable. The weather forecasting here is incredibly accurate - which is amazing compared to our hit or miss system in the UK. This is the site we use to work out what to wear each day and whether an umbrella is required and what time it is likely to rain http://www.jma.go.jp/en/yoho/319.html ! Impressive!!
If, by some chance, you forget your umbrella on the day it rains, almost every shop sells cheap transparent plastic ones. Outside every shop or office there is either an umbrella rack for you to leave it before entering the store - it will not be stolen! Or a dispenser that you pop your brollie into where it will be automatically inserted into a plastic bag to save it dripping all over the floor.
It's little things like this that make Japan the special and wonderful place it is.
Of course, the start and end dates of the rainy season are predictions by the Japan Meteorological Agency and Mother Nature doesn't necessarily conform to these. But it's a good way for the shops to predict when to stock umbrellas and wellies.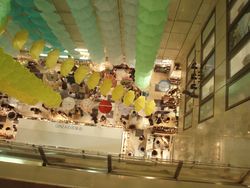 I took a little trip to explore Ginza. This is an area with three large department stores and every designer store you can name. There aren't any shopping malls in Tokyo, but the few department stores there are provide everything one could possibly need. Other shops are mostly independents and this is one particular aspect of Japan that I truly adore. I loathe the cloned High Streets in the UK and the fact that every town centre is made up of identical shops; chain stores that have shoved the independents away forever.
One store's display of umbrellas was particularly breathtaking. The ground floor ("First Floor" in Japan) reaches right up through all the other five or six floors and the brollies cascaded all the way down from the ceiling. Unfortunately my camera didn't do a great job of showing this.
I spotted an umbrella made in the shape of a red paper parasol - but a proper rainproof one. I must try and get one of these before I leave Japan.