27th December 2008
Until 1868 Kyoto was the capital of Japan. This former imperial city is home to numerous palaces as well as thousands of temples and shrines and has a very different look and atmosphere to Tokyo. It's a lot smaller and, because it wasn't bombed to oblivion during World War 2, many of the original buildings still exist in all their glorious magnificence.
Armed with a proper guide now – with opening times - we set out early to visit the first of our "must do" places – Kyomizu-dera. Rather than walk, we took a cab which turned out to be a splendid idea as this temple is located at the top of a very steep hill.This is the dramatic entrance to the temple complex.
Kyomizu-dera is a spectacular wooden temple built on a mountain and home to a sacred waterfall. Kyomizu-dera means 'Clear Water Temple'. This amazing construction has a massive wooden platform jutting out over a sheer cliff-face. No nails were used in this building; something I was pleased to learn after visiting.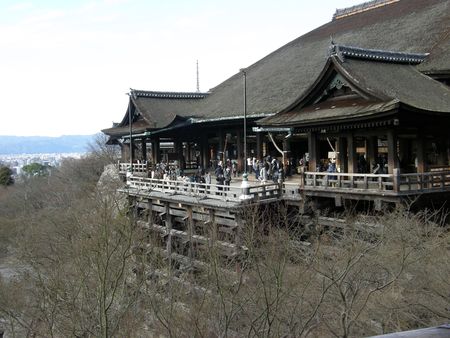 Beneath this overhanging platform, the sacred waterfall drops three streams into a pond. People come prepared with little cups to take a drink of this water for its therapeutic properties.
Rhiannon bought a nice keepsake cup from a stall, popped it into the long-handled ladle and took her drink, following the instructions here:
Part of the temple is set aside for worshiping various 'love deities' and there we found a pair of rocks placed several metres apart. These are the "Love Stones" and a charmingly translated sign tells people how to make their wish:
"This stone is called 'Love-fortune-telling' stone. If you walk safely from this stone to the other with your eyes closed. for once, your wish'll be granted soon. If you can't, it will be long before your love is realized. And it is said taking advice requires you to have someone who'll help you achieve your love."
As this particular area was so busy, it's highly likely that you will bump into someone en-route from one stone to the other. I suppose this means that your quest for love will encounter obstacles.
Another feature of Kyomizu-dera is its famous New Year kanji – each year the abbot (?) paints a large kanji to denote the feelings of the year just past. All this in one elegantly drawn character. This year it was "change". Rather apt, I thought.
Details from this site:
The kanji character 変 (hen) which means "change" was selected as the single best kanji to characterize the year 2008.
The Japan Kanji Aptitude Testing Foundation announced the results of a poll in an annual event held at Kiyomizu-dera Temple in Kyoto on December 12.
"Hen" was chosen to symbolize the changes of power in Japan from 2007 to 2008, with current Prime Minister Taro Aso taking over from his predecessor, Yasuo Fukuda, who vacated the post in September after serving for only one year.  Shinzo Abe, who preceded Fukuda, also resigned after serving just one year as Prime Minister.
Likewise, U.S. President-elect Barack Obama made change a part of his presidential campaign, and the recent global financial crisis has changed the economic landscape around the world.
We all thoroughly enjoyed visiting this temple.
In the surrounding area are attractive streets lined with extremely ancient buildings which we noticed on the way to our next destination.