Sunday 15th April 2007
Today is our very first wedding anniversary. A whole year!
A wonderful day with a rather upsetting end. Read on…
We've booked to go for a nice meal at the New Otani Hotel. Rather posh and it gives us a chance to get dressed up a little. We will have teppanyaki at the Sekishin-tei restaurant set in the beautiful grounds of this lovely hotel.
Before we head over there, we take a trip to the Meiji Jingu (shrine) over in Yoyogi Park. This is a wonderful and large Shinto shrine dedicated to the former Emperor Meiji and Empress Shoken. To get to the main buildings we walked through the largest torii gates I've ever seen and continued through a forest before reaching the shrine area.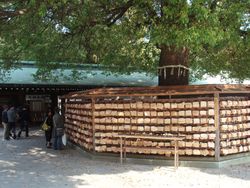 Just outside the entrance doors a huge tree is surrounded by a frame completely covered with small wooden plaques. Each of these plaques is a wish written by a visitor and hung around the tree in the hope the wish will be granted. Many are written in English.
Through the door is the vast shrine complex. To our surprise and great delight we saw a wedding ceremony is going on. It was enchanting. I think getting married at Meiji Jingu is on a par to tying the knot at St Pauls' Cathedral in London.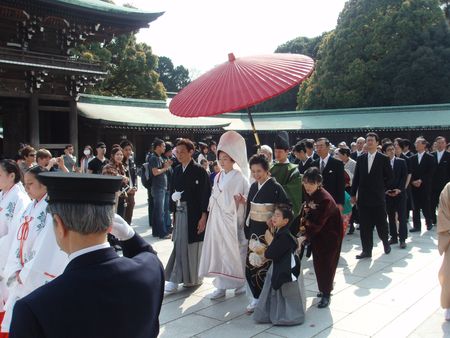 The bride was beautiful in her white hooded wedding kimono; a splash of colour was added by an attendant leading them on their promenade holding a giant red parasol. Guests followed in a line behind the couple. All were very smartly attired. Most of the women at the head of the line - and therefore I believe they were immediate family - wore formal black kimono. Some of the younger members of the entourage wore brightly coloured kimono and so did a little girl who looked gorgeous. I simply adore this traditional clothing; the embroidery work that goes into the design is incredible and the obi is a masterpiece of textile art. After the brief ceremony, the bride and groom emerged from the building looking very happy. A member of staff helped the bride with her ornate white robe - her hood was now down displaying striking hair ornaments.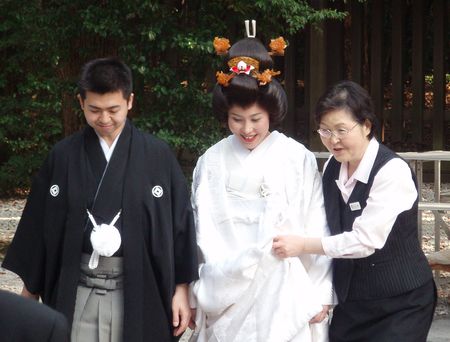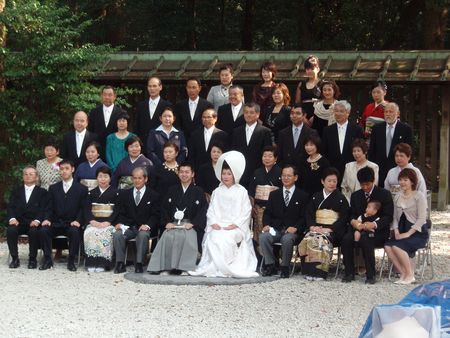 It was time to drag ourselves away from this perfect slice of Japanese culturural tradition to get ready for our anniversary meal. We arrived at the hotel with plenty of time for us to browse around the stunning gardens. An enormous red jasper rock stands guard at the entrance and other spectacular stones are scattered throughout the garden. I like stones. I can't explain why; I just find them absolutely fascinating and grounding and always seem to find (at least) one to have as a souvenir from most places I've visited. A lot of stones reside in my home.
Massive koi swim lazily in the shallow lake. For some reason, Rhiannon has decided that fish like being sung to and that we are not allowed to watch or listen to this. Luckily my camera has a zoom to allow me to capture the scene even though I can't hear what she is singing to them. Both fish and child look like they are enjoying this moment.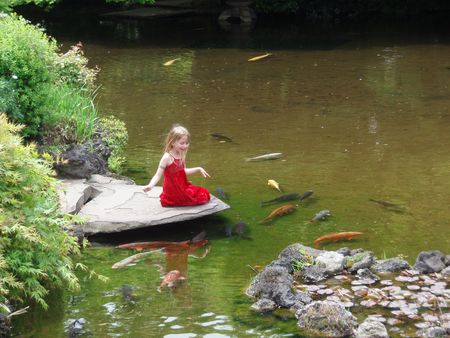 Kimono adoration continues. This hotel seems to be the place to have photographs taken when fully dressed up. Lots of colourful robes are on display with young ladies posing prettily in the classic Japanese setting.
The gardens are large and we decide to leave the rest of the exploration until after our meal. Teppanyaki is a cooking method - you sit in front of a large hotplate and your food is cooked in front of you. As well as being delicious, it's a feast for the eyes too as you can watch the master at work; preparing, chopping and cooking in a slick and professional fashion.
We clambered onto the chairs around the counter and ordered the set menu. These are always recommended as the chef will choose only the best, freshest and in-season food for you. Japanese food generally has lots of courses comprising small amounts. Perfect! We had giant prawns, Kobe beef (incredible, mouth-watering, tender perfection!) lots of unusual vegetables, garlic rice and miso soup. Poor Mum struggled with her chopsticks as her hands are now twisted with arthritis but refused the offer of a fork and gamely battled ahead. One of the best meals I've ever had.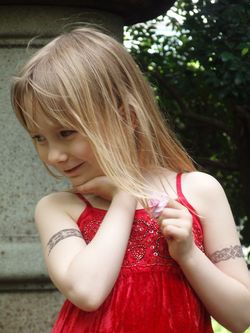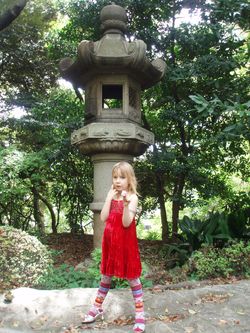 Replete and happy, we left the restaurant for a continued exploration of the grounds. Lots of lanterns are scattered throughout the garden and my little poseur of a girl insisted on having her photo taken with one. Eventually after a last song for the koi, we head into the hotel to see what's on offer inside.
And would you know it - another wedding is in progress! This time, the bride has chosen a Western style "do" complete with white meringue dress. I particularly love the circular shapes the view from above afforded us, with the seating arrangements and the little pergola.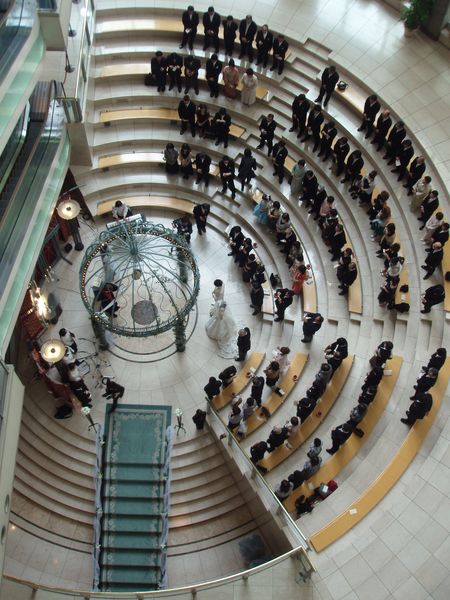 And then Shops!
This hotel is one of those fancy ones that has shops in it. Goody! The shopping arcade is full of appealing shops but as Tim and Rhiannon aren't interested, so Mum and I restrain ourselves from visiting every single one of the hundred or so shops.
But I can't resist my newly discovered admiration of Japanese porcelain. I've always had a preference for blue and white china and the Japanese designs are so simple yet extremely artistic. Always perfectly balanced, intriguing and full of symbolism - another of my penchants. I am very close to becoming obsessed with Japanese ceramics. As it's my anniversary - and Tim never buys me presents - I rather rashly decided to treat myself to a set of five small plates. They are a wavy oval shape and handpainted with a mountain scene with houses and trees picked out in gold. They weren't cheap, but absolutely gorgeous, an unusual shape, plus a full set in perfect condition and around 200 years old. The sales assistant offered to package them up for me so they'd be safe "on the plane". By this time I was getting grumpy vibes from Tim, and Rhiannon was started to whinge, so I declined saying we didn't have far to carry them and weren't going on a plane any time soon. She wrapped them in layers of soft paper.
Very pleased with our day out and my new purchase we set off for home. Throughout the metro journeys I hugged my plates carefully and avoided anyone bumping them. Finally home, I placed the bag on the shelf inside the front door and took off my shoes.
The bag fell off the shelf and three out of the five plates smashed.
Over two hundred years they had survived, through earthquakes, wars and general life only to be destroyed by my idiotic self.
Devastated, I took myself upstairs to cry at my stupidity. I couldn't even blame anyone else for it - perhaps this was worse! I came down a bit later to find mum gamely gluing them back together with superglue!
Heartbroken.
They now live at the back of a cabinet as I am unable to look at them without feeling a pang.