27th December 2008
Quaint streets meander around the city, with countless small shops, restaurants, wooden buildings and geisha headquarters lining them. Kyoto is a cultural and architectural paradise which is small enough to walk around while admiring the scenery.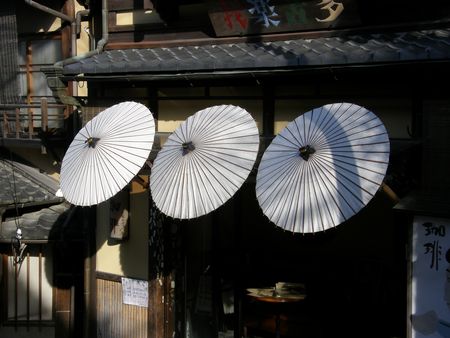 As well as all this, Kyoto is home to many geisha and maiko and is where the book "Memoirs of a Geisha" was set. Actually, to be accurate, geisha in Kyoto are called geiko. It's not unusual to see maiko in ornate and colourful kimonos walking around and posing for tourist photographs.
Perhaps the most renowned of all the Kyoto landmarks is Kinkaku-ji, the 'Temple of the Golden Pavilion'. The three-storey Golden Pavilion is found in the middle of a large temple complex and is more stunning than the pictures imply. Artistically positioned on a mirror-like lake, the reflections are all part of the design. Rebuilt numerous times, the latest incarnation was completed in 1955 and in 1987 it was re-coated in pure gold leaf.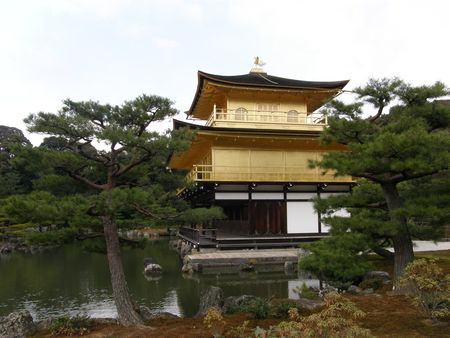 On a sunny day, this must be absolutely dazzling.
And the surrounding grounds were interesting too. Here's a little shrine where you have to try and throw money into the little bowl. Many, many coins were used up in this little game! None of them reached the bowl...
After this, we went on to the only place everyone else wasn't keen on – Ryoan-ji, where the famous Zen rock garden is found. Not everyone shares my enthusiasm with rocks (can't say I blame them, to be honest!) but I was determined to see them. Unfortunately the temple that houses these rocks was some considerable walk away so everyone moaned at me. I pushed on. Tim and Rhiannon went "on strike" and refused to come in any further than the outlying temple grounds. Mum and I went to see the big stones.
You have to remove your shoes before entering this sacred part of the temple.
Fifteen rocks are strategically placed in a sea of gravel as a symbolic representation of nature and is a place for meditation. However, it was so crowded that peace and tranquillity were hard to find.
Was it worth it? Ummm, not really worth the long walk to be honest, but I am pleased I've seen them. Visit if you have plenty of time. Or if you are a rock and Zen freak like me!
Oh look! A gorgeous big stone!!