Sunday, 14th January 2007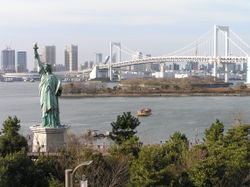 Tim has an idea for a day trip today so we jump at the chance to see somewhere new.
We are off to a place called Odaiba, which is somewhere "over a river and by the sea". Excellent! A Real Trip!
This involves countless trains, culminating in a trip on a wonderfully modern, unmanned monorail which speeds us over the roofs of Tokyo on an elevated track. We managed to get the front seats so Rhiannon pretends, as all kids do, to drive the train. We get many amused looks from the other passengers. Although this might have to do with the fact that Tim was also pretending to drive the train...
Flying over Tokyo Bay to our destination I enjoy the fabulous views of some incredible futuristic architecture.
Odaiba is a large artificial island located in Tokyo Bay. Some of the 
spectacular sights here include the graceful Rainbow Bridge, one of the world's largest Ferris wheels and the amazing space-age Fuji TV building. The latter takes my breath away with its other-worldly design. Apparently the ball at the top weighs an incredible 1,200 tons and measures 32 metres across. Goodness knows how they got it all the way up there!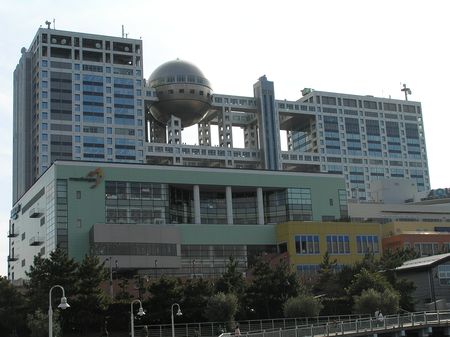 Once there, we explore the area finding a massive shopping mall with a large restaurant hall which we earmark for lunch.
Outside, I snap away taking photos of all the wonderful buildings and views over the Bay. Then we realise we can actually get down to the sea so we make our way through the clipped trees and giant anchors placed artfully in the ground. On the way, we are amazed to see a Statue of Liberty!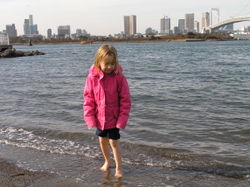 Even though it is January and pretty cold, Rhiannon goes paddling in the sea chasing the small fish darting in the shallows. I didn't expect this of Tokyo, that's for sure! Not only can we (fairly) easily get to the sea, it's not polluted or mucky in anyway, and there is even life in it! Ducks and cormorants bob around, doing their thing, while spaceship-like ferries carry passengers to unknown destinations.
For lunch we drag Rhiannon away from the giant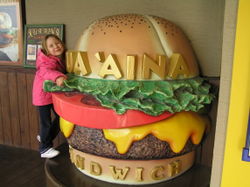 beefburger and down to the restaurant hall we noticed earlier. While I ordered a steaming bowl of Japanese noodles and soup, Tim and Rhiannon let the side down and order McDonalds.
We will return to this place, it looks like there is a lot to discover here.