2nd October – 3rd October 2007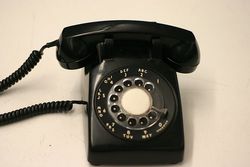 After our regular Tuesday coffee morning we all take a trip in Peggy's large car to a shop she's found called Yamamoto Antiques. This is not just a shop; this is an emporium of wondrous items from true antique tansus to modern replicas via second hand relatively modern chairs, clocks, coffee tables and beautiful porcelain hibachi. Items are piled on top of each other from floor to ceiling and sometimes it's hard to actually find a way through this large store. I can highly recommend a visit! One of the stranger items I discovered in this maze-like shop was an old British telephone – one of the dial ones just like we used to have in the "olden days".
On this occasion I didn't purchase anything but I went back on another occasion with Tim and we bought a small modern tansu which ended up being commandeered for Rhiannon's extensive art materials.
Then on Wednesday, Peggy and I make a trip to a very special shop on Omotesando, Fuji Tori. I was on a mission. For many years I have wanted to own a screen. And Fuji Tori sells screens – amongst many other beautiful Japanese items. I love this shop. One of the reasons we made our regular coffee mornings on a Tuesday was that Fuji Tori is not open on Tuesdays therefore saving me a weekly spending spree!
As I have visited this shop many times, the owner, Naohiro Kurihara, treats me as a valued customer and seems to admire my appreciation of Japanese art. He flatters me, telling me I have "black eyes" meaning I see the art as a Japanese person, not a gaijin. It's a fantastic ploy to encourage sales! He writes a column in one of the English language papers here and showed me some of them, including a picture of how Omotesando used to look – no shops!
Here is an excerpt from an article written about him:
Mr. Naohiro Kurihara is the proprietor of Fuji-Torii, a Japanese artworks and antiques shop located next to Kiddy Land, Omotesando. The shop was established in 1949, some 60 years ago. He has long watched the changes taking place in Omotesando. We interviewed him.
Before World War II, my father had a store in Ginza. After the war, he moved and started his business here. Harajuku was originally a "temple town" in front of the shrine. But the town burned to the ground during the war.
The area of Yoyogi Park, the south side of Meiji Shrine, was once a parade ground for the Japanese Imperial Army. After the war, the place was requisitioned by the occupation GHQ, and they built the Washington Heights housing area for the Occupation forces. Each residence was for a high-ranking officer and it had a broad lawn and a nice house, and this brought many customers to our store, so we often visited the place by delivery truck. I was only a child at that time.
Kiddy Land, next to us, was a foreign bookstore, but the store also started to carry quite sophisticated toys as foreign customers had often asked them if they dealt with toys, which they wanted to buy for their children. The place where the GAP store is now located used to be Central Apartments. There were many restaurants such as Italian, steak house, Chinese, Philippine. These restaurants also catered to Americans living in Washington Heights.
In 1964, when the Tokyo Olympics were held, the Washington Heights site was returned to Japan. Later, the media started reporting about small apparel makers in the area. Gradually, Harajuku began to draw attention as the city's latest fashion center. Beams, one of the well-known apparel makers, was there at that time. Takeshita-dori Street used to have many shops carrying reasonably-priced clothes for import and export. Years ago shops owned by TV "talents" were popular. Harajuku is a popular tourist spot for school trips from all over Japan. In the 1990s, after the so-called "bubble economy" burst, the number of shops managed by foreign-affiliated companies began to increase. "Ura-Hara" ? the small alleys that comprise "backstreet Harajuku" ? attracts fashion-conscious young people these days. Harajuku has been continually and dramatically changing for the past 60 years. Maybe, only our shop still exists among those shops which were open 60 years ago.

In the winter of 1971, I remember we enjoyed skiing the next day after a big snowfall. I guess people hearing this today would think it was unbelievable.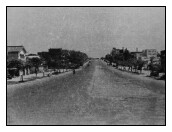 Omotesando in the early 1970's
Omotesando today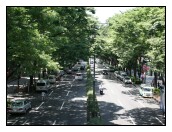 In my head, I have an idea of the type of screen I want – something gold with possibly bamboo on it. I love bamboo. I don't want people or scenery.
Peggy and I take a seat, accept the offer of green tea and watch while screens are displayed in front of us. Screens of all sizes and colours soon surround us but still nothing shouts "take ME home". Incredible paintings of branches of plum or cherry blossom stretch across the panels; the bamboo doesn't seem quite right somehow and gaudy flower carts don't appeal to me at all. The gold seems too… gold, too over-the-top, too bright. We are there for a good couple of hours looking, discussing and dismissing. The screens are all hand-painted by professional artists so each one is different.
Then, ever patient, the assistant brought out one I had specifically said I didn't want – scenery. Instantly I fell in love. The gold is a soft colour – not as garish as some of the others. The painting is exquisite, subtle yet strong and compelling. I feel I can look at it for hours. This information is copied from a similar screen on the Fuji Tori website:
"A four-panel folding screen made of multi-layered Washi paper pasted onto a wooden frame.  The background is finished with square gold leaves put on to the Washi, over which beautiful silk is stretched. Tranquillity is expressed in this waterside landscape depicting a pagoda and pine trees, painted in Sumi-ink and light coloured paint.Borders of silk brocade and a black lacquered frame tone up the entire work.  The artist's signature is on the bottom right." The artist is a woman called Sazanami Suzuki.
Entirely happy, I bought it. It was packed in a wooden box with special hangers if I want to hang it on the wall, and then gift-wrapped as is normal here in Japan.
I have enjoyed gazing at the beautifully peaceful scene every day since. The perfect choice!