28th August 2008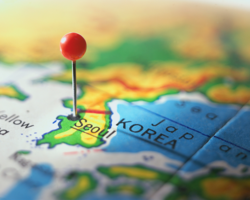 Rhiannon and I are on our own in a confusing new city. If I was travelling solo, I would be so nervous about it, but with the distraction of having a child in tow I fear getting completely lost. So we don't venture very far at all as it's a complicated city to navigate. I have maps and suggestions on where to go.
Tim told us about the "tunnel shops" that radiate under the streets and are close to the hotel. So we head there first. All the shops were closed but the windows were full of interesting little knick-knacks and jade. Also, many ginseng shops displaying intriguing concoctions of the root – and often the whole roots too. It seems that Asian countries open their stores late and then remain open late into the evening. There's little point heading out to shop before 11am.
These tunnels opened out into a shopping mall which contained lots of closed shops – we had set out too early in the day, so to stop Rhiannon Shopaholic whinging we went for a drink in a little café to kill some time before exploring further.
Later we found a massive department store called Lotte DFS (Duty Free Shopping). Most of it is a normal store, but the DFS bit has, of course, cheaper prices. Having shopped in a DFS before in Hawaii I thought it would just be a case of showing my passport and tootling off with my goodies. Not here though. I bought a Swatch for Rhiannon and a bag and wallet from Chanel but to my immense disappointment was told I had to collect my items from the airport when we left the country! So we went a little crazy in the rest of the non-duty free part of the shop so we could at least go back to the hotel with some presents to ourselves.
(I duly collected everything from the airport but didn't get chance to look at the things until we got home. Most unimpressed. Rhiannon's watch didn't work, and I'm damn sure my wallet was not the one I had chosen but couldn't prove it. My bag had a slightly dodgy twisted chain too. We sent Rhiannon's watch back and got a replacement some months later, but I was unable to get satisfaction from Chanel – I didn't want to send such an expensive bag by mail so learned to live with it. A warning to others buying from Lotte DFS in Seoul – caveat emptor – you have no way of knowing what they've given you until you are well away from the country.)
Time to return to the hotel to meet Tim. So it's back into the tunnels again, but I went in the wrong entrance and got lost. Rhiannon panics like hell over this kind of thing so I had to pretend I knew where I was going. After many random turns I finally found a tunnel I recognised from the shops we'd seen in the morning. Everything looked different as they were all now open with displays on the path outside.
To my great relief we found the hotel again.