Monday 16th April 2007
Rhiannon goes back to school today (yay!) and is due to have her very first Aikido lesson after school.
There are loads of extra-curricular activities at the British School in Tokyo and Rhiannon is eager to try as many as possible. I'm very happy for her to give everything a go if she wants because I never had the chance to try anything due to where I grew up (deepest, darkest Devon in England) where there were no opportunities at all. And besides, I have a lot more work coming in and could really use the child-free extra hour or so at the end of a school day… Rhiannon is a rather demanding child and is, quite frankly, exhausting. (Understatement!)
Although there are lots of activities, sadly none are available for five year old reception year kids. Apart from Aikido. So I signed her up last term and today will be her first lesson. The Dojo is at school so I have no need to ferry her around and just have to pick her up at 4.30pm.
Once the school run is completed, Mum and I catch the metro to Kappabashi. I love Kappabashi where there are numerous kitchenware shops and, my favourite, ceramic shops. Although I've been there a few times already, this is Mum's first visit.
I should have realised. If I like something it will be the complete opposite to Mum's taste and vice versa.The pottery here is, to me, beautiful, edgy, rustic at times, decorated in a quirky manner and fairly modern. I swiftly realised Mum was not impressed at all. So I abandoned my plan of visiting all the "plate" shops and looked at some of the others in the area.
We discovered a shop selling many styles of glass bottles and jars ready for personalisation. Shops selling signs and others selling uniforms. There were also lots of personal shrine shops which were rather incredible if a little mystifying.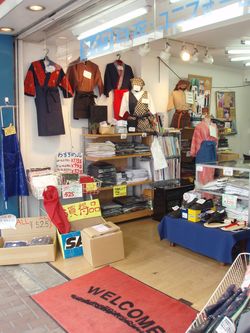 I didn't feel too comfortable taking photos of those.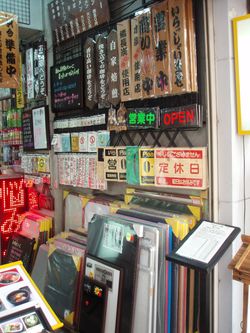 There was also a tiny shop selling all kinds of coffee making equipment. Not just pots and filters, but some Heath Robinson-esque contraptions too. Fascinating!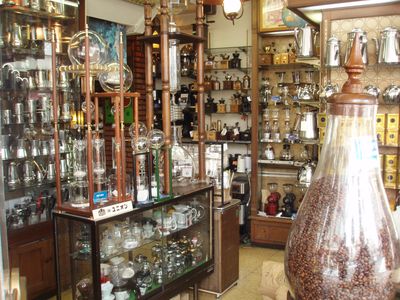 We were both intrigued by the many shops selling fake food. Outside most restaurants here are plastic replicas of the meals served inside. This is obviously where they buy their models. We wondered if the plastic foods are made to order depending on the restaurant's request or if the chef cooks to match the model.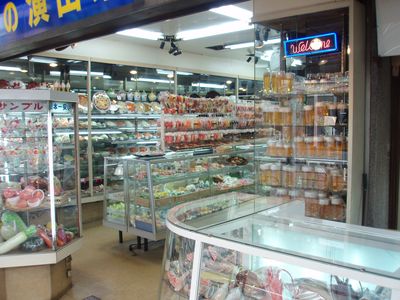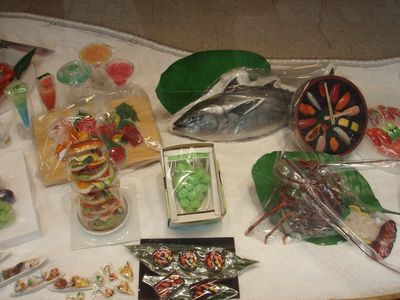 Kappabashi's charms were soon over for Mum so we walked over to Asakusa so she could look around there. She loved this area when she visited at Christmas and wanted to nose around a stationery shop at the top end of the temple and to look around the many alleyways selling fabrics and kimonos.
I stayed a while until I got bored, and then left her there, confident that she was finally at home enough in Tokyo to be able to find her own way back to our house.
With just enough time for a cup of tea and a quick check of emails and so on, I relished the snatched moment of total peace before heading off to collect Rhiannon from Aikido.
As with any new activity, I was anxious as to find out whether she enjoyed it or not. She's very much a girly girl but incredibly active which needed an outlet. Hopefully, Aikido will prove to be this outlet. The Sensei assured me the mix of girls and boys was pretty even.
Nervously, I waited in the school's lobby for her to come up the stairs from the gym. Other children dressed in their white kit were coming up but Rhiannon was last as usual. Then I heard her…
Did I mention she is loud as well as over-active? There is no off-switch on her. And no volume control.
Anyway, she obviously saw me before I noticed her and she yelled up the stairs,
"Muuu-uuum!!!! I had SUCH a wonderful time! Aikido is brilliant! I got to throw a grown-up man right across the room and he hit the wall with a big SPLAT!!!!"
Aikido was obviously a huge success. I am very happy.
But then she decided to practise her newly learned moves on me... OUCH!
 Be afraid!