6th February 2007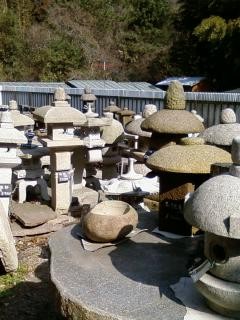 What a fabulous day! I went on a trip with a few other mums from school, organised by a fabulously capable lady called Connie.
All neatly sandwiched between school hours and very slickly organised with regards to train times and connections, about ten of us went to a place selling Japanese stone lanterns and other gorgeous items. A mega-shopping trip!
From Shibuya station, we caught two trains and after an hour ended up at a place in the country called Zushi, which was even further away than Kamakura. At Zushi station, the son of the shop owner met us with a minibus and drove us to his father's small workshop set beside a narrow road.
What heaven! Already deeply admiring Japanese culture of most kinds, I had done a little research into these special ornaments and decided to treat myself to a small lantern. It has to be small as our shipping allowance wouldn't permit transporting many extras on our next trip, either back to the UK or to another country.
But the choice was overwhelming and with more than just lanterns to choose from, we all found it very hard to make a decision.
I was astounded at all the other women being unable to make a decision without their husbands' approval. They were all taking photos of various items, then sending them via phone for hubby's opinion. Tim wouldn't have been at all impressed if I kept bugging him like this, and besides, he knows my taste is far superior to his!
It still took us all 2 hours to choose which of the beautiful, hand-carved stonework we would buy for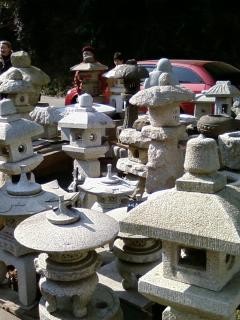 our gardens. There were so many delightful styles to choose from, and what I really wanted wouldn't fit into my tiny garden. At one point, the son came out with cups of hot orange juice for us. Delicious and unexpected, it turns out that this is a particular type of Japanese orange called Mikan which grows in abundance here.
I chose a small dark-coloured granite lantern, and couldn't resist also purchasing a tsukubai, a little granite bowl traditionally used to rinse your hands before partaking of the tea ceremony. Eventually, we had all made our choices and arranged delivery, paid and rather dizzily drifted back onto the street.
However, the owner then kindly invited us back to his home for tea. Well, he had made rather an incredible profit that day – one lady alone had bought four huge lanterns. We were more than happy to accept, although some people made their own way back to the station rather than be sociable.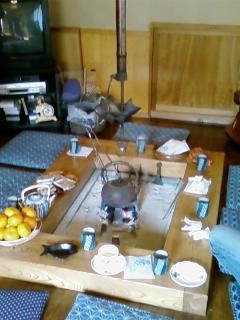 What an experience! This was my first sight of a 'real' Japanese home, both inside and out, all paper walls, tatami matting on the floors and a sunken fire pit called a hibachi. Hanging over the fire was a large iron kettle attached to a magnificent hook carved in the design of a fish. The lady of the house welcomed us with open arms and directed us to cushions placed around the hibachi. Kindly, she advised that she didn't mind if we didn't kneel as she understood it was hard for gaijin to do this! She served us delicious green tea and biscuits while her husband told us that the stone masonry is his 'side job'... his real job is moving Japanese houses. Yes, this is actually what he does - he moves the ENTIRE house, with all the contents in situ, including, (as he said) the fish in their tank. He somehow does it by piling the whole house onto pallets and moving it inch by inch. Not sure on the actual technique but apparently he is one of the last people in Japan who can do this.
They also kindly allowed us to look around their home. The windows had sliding shutters designed to present a perfectly framed view of the carefully manicured garden dependent on the time of year. Each ornament was striking in its beauty and strategically placed. Little alcoves displaying scrolls and special treasures adorned the immaculate rooms. It was an interior designer's heaven, yet normal life for these lovely people.
Sadly we didn't have much time there as we had to catch a train back to make it back to Tokyo in time to collect our children from school. And unfortunately, I hadn't thought to take my real camera with me, so these are taken with my phone and not great quality. Incidentally, those are reflections across his highly polished and gorgeous table, not smears on the lens.
Note to self - ALWAYS carry a real camera!