Tuesday 25th September 2007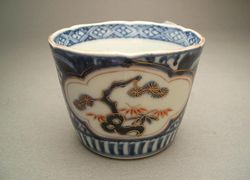 After our regular "girls coffee morning" - enormous Latte, breakfast and a gossip at Starbucks, Peggy and I take a trip to a wonderful little antique shop I've discovered. Okura Oriental Art is a tiny little room situated just off a main road near Roppongi. I can't emphasise just how tiny the shop is (the pictures on the website are of a mysterious display building somewhere or taken with a very wide-angle lens). You have to be very careful just moving around in there in case you knock something ancient and beautiful off of a cabinet.
Antique tansus (chest of drawers and cupboards) are display cabinets for porcelain and storage for miscellany. These stunning tansu are also for sale. I wish I could get one, but sadly the terms of our stay here mean we are not allowed to ship any furniture. All our furniture in the house is rented and we gave away most of our furniture in the UK.
But there are many, small items I covet.
My soft spot is, and always has been, blue and white ceramics, pottery, porcelain - call it what you will - but here is the home of the best blue and white in the world. Imari.
The owner speaks English to a certain degree, and I have been doing my research, so we get along very well.
I am entranced by the numerous symbols of Japan. Stylised and zen-like brushstrokes take the painting of these icons to a subtle, yet strong level.
We spent a happy hour or so exploring this fascinating shop and I made my first foray into what would come a bit of an obsession. I bought the soba choku pictured above. This is a small cup that's filled with sauce to dip soba noodles in. It's about 6cm high. To my amazement I'm told that this delicate piece of porcelain is over 200 years old! In a land regularly shaken by so many earthquakes, how can something like this survive so long?
Periods of Japan are named depending upon the Emperor or Emperors ruling at the time. Most antiques here are from the following dates:
1603 - 1867 is the Edo era, generally sorted into 'early', 'mid' or 'late', without a particular date to these names. Tokyo used to be called Edo. For much of this period, Japan was completely closed to the rest of the world, allowing the arts and crafts to evolve in their own special and particular way. In 1854 the Japanese government was forced to open some port in order to trade with the world.
1868 - 1912 - the Meiji era.
1912 - 1926 - the Taisho era.
1926 - 1989 - the Showa era.
And, for reference, from 1989 to now, the Heisei era. But of course, no antiques from this one - yet!
So I guess my little cup is from the late Edo period - around 1807. Wow!
I also like boxes. Not sure why, but as the saying goes - what do you give someone who has everything? A box to put it all in! By no stretch of the imagination do I have "everything", but perhaps I am saving these boxes for when I do? I'm working on it!
Numerous little boxes exist in this shop. Suzuribako - inkstone boxes for storing calligraphy equipment, inbako - stamp boxes. I don't know what sort of stamps, but they have little compartments inside. Haribako are sewing boxes with an upright fixture. The small box at the top housed a pincushion and is thought to have acted as an extra 'hand' when sewing kimono.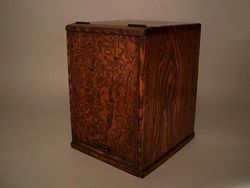 It's hard to decide what to treat myself too. But then I spied the cutest little box with a hidden secret. 
When closed, it looks like a plain box, but lift up the front and there's a mirror! It's called a kyodai and is a dressing table box. At just 22cm high, this is the perfect size.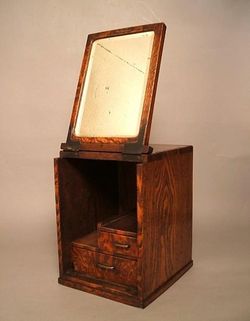 "Kore kudasai" ("I'll take this, please" - one of the first phrases I learned…!)
More than pleased with my visit and purchases, I head home happy and educated. Retail therapy is the best! It is, unfortunately, more expensive than a regular therapist, but it works for me! And you don't need to do it regularly. Allegedly.

This shop becomes "my" personal heaven over the next few years, so look out for more shopping posts to come!