Isn't it amazing how a piece of material and a lick of paint can change your mood?
I've mentioned before on the dreadful decor in this house; the stark, clinically white walls, filthy taupe carpet and hideous, over-coloured curtains.
It is no more!
While Rhiannon and I were in Basel, Tim repainted a couple of walls in the living room. I chose the colour - a light mossy-grey green. It's made a huge difference; the hangings on the wall look fabulous again as they have off-white accents, which when viewed against a white wall made them look grubby. Tim also decorated Rhiannon's room. She chose the colours and they are somewhat more vibrant than my choice yet work together incredibly well - lilac and seafoam green.
Anyway, we spent some time admiring the effect the new colour gave the room, yet bemoaned the utterly vile curtains we had to look at.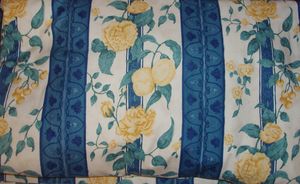 See? Horrible! And the photo doesn't adequately show the sheer brilliance of the colours. (Apologies if you have chosen these for your house. Each to their own, of course, just not my taste. At all.)
However, we struck lucky. There's an empty, work-owned house nearby. And they haven't yet removed all the furniture and curtains...
We got hold of the key and went to see what they were like. Lovely! All plain and modern.
So we swapped them out and brought them all home and then spent a tiring evening unhanging and rehanging vast amounts of material. Pretty much one entire wall of the living room is curtained. Now it looks fantastic with heavy light cream brocade drapes. The room looks larger, airier and far more sophisticated.
Rhiannon claimed some dark chocolate satin curtains for her room and they pull the new paint-work together in a very grown-up manner.
We're very happy with them. I no longer feel oppressed by my living room!
Now we plan to buy lots of rugs to cover the worst of the carpet stains...