Another day trip in the UK was to the New Forest Show in Hampshire.
Having grown up in the country, and having many farmers as friends, I adore a good agricultural show and haven't been to one since visiting the Devon County Show when Rhiannon was still pushchair-bound. 
We took Mum and Kita too.
It turned out to be the hottest day of the year. Which was nice, but forced me to buy a hat which I will not show you as it was a white, straw stetson. But it had to be done!
We left Mum in the art tent where she spent most of the day, and headed off to look at other things with plans to meet at a certain time and place.
Kita was not particularly happy - she was way too hot and a bit unnerved by the unbelievable array of strange scents assaulting her sensitive nose. She wasn't UNhappy as such, just quiet. Which was good, I guess - she wasn't leaping at people or dogs; she just ignored everyone. And it turns out she really dislikes horses and tries to hide from them.
Rhiannon was somewhat mystified by the whole concept and Tim liked seeing a Spitfire and spent most of the day sitting under tractors out of the sun with Kita. So it was up to me to educate my daughter in country ways. Mind you, the New Forest is a different sort of 'country' to the type I'm familiar with. Not many hot-tubs and fancy sheds required in the Welsh mountains...
I took Rhiannon to see the bulls as she's never seen one close up before. Her face was a picture!
She was happier with the Dexters. Especially the calves. And the goats. We avoided the rabbit tent as she's desperately wants a new pet, but it's a pretty daft idea to provide the dog with live food.
We also briefly saw a display of sheep - I thought it looked really interesting but I was in a minority of one, so carried on with the rest of the family.
Then Rhiannon and I went to the poultry tent. She ran in ahead of me before charging back out loudly exclaiming
"Mummmmmy, please can we have a DUCK?"
Yes, she was teasing me but it made the people around me laugh a lot.
She was mortified later when a man handed her a sticker for something, then said, "And here's one for your sister...!" Her shock and disbelief made me laugh a lot. She has a lot to learn about stuff like that.
A rather fascinating display of hearses caught my eye. Something a bit different to have on show, but I was impressed at the number of vehicles that can be employed for your last journey. Naturally, this was my favourite, being from Japan. We used to see them around quite a lot. Glamourous, isn't it?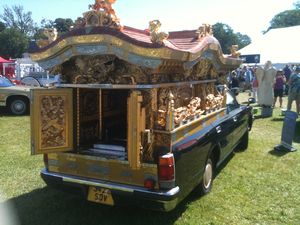 We ate a lot of ice creams. It was so hot. But it could have been a lot worse bearing in mind the disgustingly wet weather in the preceding weeks.
Towards lunchtime, a little golf cart trundled past us. Lo and behold, it was Alan Titchmarsh!
I knew where he was heading as I'd done my homework based on a tweet I'd stumbled across. And this is why I chose that particular day to visit the show.
A helicopter swooped into a nearby field. A rather posh helicopter...
Before long, crowds had gathered and we met up with Mum who had found an empty place in the shade by an ice cream stall.
And we got the best view of the Queen and Prince Philip as they drove past within touching distance of me. It was the perfect end to the day.
Shame my photo didn't turn out well.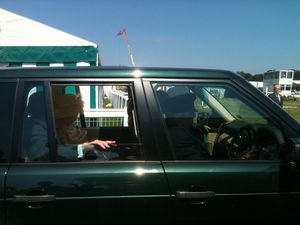 Here's a much better one from here.