I'm now going to round up the past couple of weeks now so I can start blogging in real time. It's confusing my readers to have all this retrospective stuff going on and it's frustrating to me too.
My Japanory blog is still missing two years worth of memories, but it feels very wrong for me to write trivial stuff on there now with all the devastation of the earthquake still horribly fresh in everyone's minds. I will update it when the time feels right.
So here are some of the events and thoughts and randomness over the past couple of weeks to date:
The school holidays have started and I'm counting the days until she returns. Rhiannon hasn't really been to school since 9th March. She was off sick when the earthquake hit in Japan and her school was closed down, opening for a few days just before we moved here.
Trying to keep her entertained with none of our "stuff" is nigh on impossible. We can't cook - no scales, ingredients, cookware; we can't paint, draw or make things; we don't have any TV apart from German terrestrial and a few over-watched DVDs. The garden does keep her occupied for a while. We've tried exploring the streets, but this soon wanes for her as she doesn't share my interest in the beautiful architecture and well-tended gardens. We've tried a bit of gardening but the soil is so uncultivated I can barely dig an inch. I need to pull up about a thousand oak and beech seedlings very soon.
We now have a trampoline in the garden which gives Rhiannon another reason to play outside. She still wants company sometimes; the only drawback of being an only child, in my opinion. If she had a sibling they'd be forever falling out over nothing anyway. Besides, I find it fun to bounce too - yes the trampoline is strong enough to take my weight! So does the swing, but the seat is a little small for me...
And, of course, there is the still unsuccessful search for a post office.
We've also had to wait in for various people. A group of three visited to assess the possibility of putting up a dog-proof fence. One of them used to work in Tokyo and I was under "orders" to give him a hug from an old friend. He was happy to take it.
There was much excitement one day with the planned delivery of one set of our baggage - the items we sent by plane. Unfortunately, after waiting in, I was called to say they'd cancelled and would deliver the next day instead. Disappointing. But it arrived in good time the next day and occupied me and Rhiannon for the day. Most of it was Rhiannon's stuff anyway, with my main joy being reserved for the arrival of my computer. No longer did I have to write on my minuscule laptop with the Korean keyboard.
Another day, while we were walking Kita, someone left a note in the letterbox. I fed the many-lettered word into Babelfish - Schornsteinreinigung... it was a chimney sweep! I wasn't even aware we had a chimney. She came back today. I had to help her open the loft hatch as she was a little too short and I can't find a pole. Rhiannon had an image of a chimney sweep from "Horrible Histories" and "Mary Poppins"... so this girl blew that image out the window. She was gorgeous and I could see the cogs in Rhiannon's brain finally realigning from her polarised view of female / male jobs.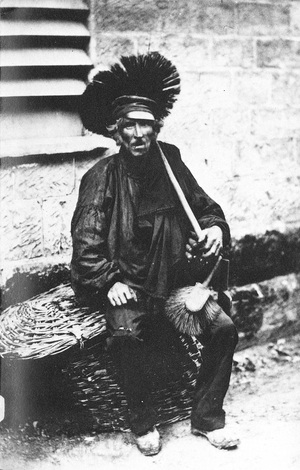 We're transforming one of the basement rooms into a den for Rhiannon in the hope that we can keep all her crap belongings away from our living area. It would be so nice to live in a clutter-free home (although I have more "clutter" to come, it is tasteful clutter. Honestly!) She chose vibrant orange and turquoise paint for a couple of walls and painted a huge sun on the turquoise one. We still need to get a carpet though as the room is still not cosy enough to tempt her to stay down there yet. The plans look fabulous though. I hope they come to fruition soon.
Yet more shopping to do. Which is a pain in the butt, because we only have Saturdays in which to do anything like this what with shops closing on Sundays and all over Easter.
Another waiting-in time was for Rhiannon's new school uniform to be delivered. Thankfully that arrived in good time and it all fits. All I need to find now is a jumper and some shoes.
So, this coming Saturday will be spent shopping.
Before that though, a major event is happening today. Our heavy baggage is due to arrive!
Finally, we will see all our possessions again, albeit in 107 boxes to start with. We haven't seen it since the efficient packers scooped it all up on 1st March.

I do hope my precious Imari porcelain has survived its long sea voyage. The thought of having all my own cooking utensils back fills me with rather worrying pleasure. It will be nice to have more than two changes of clothing too. And my books. Oh how I have missed my books! Goodness knows where they are all going to go though. I had a painful cull before we moved but there was still 4 large, full bookcases to send. I only have three smaller bookcases here. Hmmm.
Today will be exciting, yet stressful as we desperately try to find space for everything. And a bit like Christmas in many ways. Especially as I packed a few little unopened presents for myself in there.