It's been a busy couple of weeks. So busy, in fact, that I don't feel I've shared enough of my mundane life with you all.
Let me rectify that now...
We've been to Christmas parties: one for the kids where Santa appeared with presents. I think this is possibly the last year Rhiannon will go to this particular party. She was one of the oldest there and was all 'pre-teenage' angst beforehand, worrying what to wear and so on. Once there she had a good time though.
Another party was at Tim's office where we had a wonderful "small world moment". We bumped into someone we both worked with in Vienna about 11 years ago! The amazing coincidence is that he no longer works for the establishment and was just visiting a friend here for the weekend.


Last week - Tuesday 13th December - Rhiannon had her school's Christmas Show. We've attended a number of these over the years; usually a deadly dull concert showcasing the dubious talents of the school's orchestra and choir.
This one, however, was different. Well it would be - it's a different school in a different country!
They put on a production of "The Wind in the Willows". It was held in a very posh place called Konzerthaus in Gendarmenmarkt.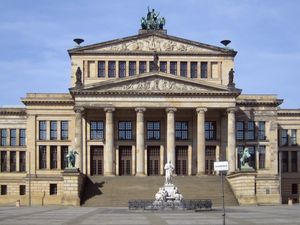 Beautiful building, isn't it? The school had hired a smaller hall inside and the play took place there.
It was an ambitious production and the kids performed extremely well indeed, with no errors that I could spot. I have to admit I've never read the book and don't know the story. And I have to admit that I'm still none the wiser as to the plot...
Rhiannon played, "Sally, the Jailer's Daughter". Just a few lines, but a part nonetheless.


She soldiered on despite suffering from a nasty bug of some description. She'd spent the previous weekend with a temperature and a dreadful cough. Which she is still suffering from, unfortunately.

School finished on Wednesday 14th so Thursday was spent lazing around the house, recharging our batteries for a short time. Or rather, Rhiannon recharged her batteries while I spun around the house frantically tidying up and cleaning ready for our Very Important Visitor...
Later that evening, we collected Mum from the airport. She's spending three weeks with us and came bearing gifts of tea bags, magazines and other lovely goodies.
The following day, Tim and I had a function to attend, so we press-ganged Mum to babysit for the afternoon. I enjoyed getting all dressed up for a change and wore a gorgeous sparkly Vivienne Westwood top and a pair of palazzo pants. To my surprise, nobody else had bothered to put their glad rags on. The very different culture in this country is going to take some getting used to.
Never mind. I didn't care that I was overdressed and I got to talk to people, something that is lacking somewhat in my day to day life. Our host informed us we had to "sing for our supper" and produced song sheets. We all gathered in front of the real fire and sung Carols with alternating verses in English and German.
The food was wonderful. Not particularly Christmassy, but very "British" with a fantastic bread and butter pudding for dessert.

The rest of the time has been mostly spent travelling into town to finish the Christmas shopping. Much of our enjoyment has come from admiring all the incredible Christmas decorations available here. They really are beautiful - and sometimes bizarre - a Christmas gherkin bauble anyone?
Unfortunately, the weather hasn't been good - and there is absolutely no sign of any decent snow, a few flakes spun around a couple of times, but mainly it's been raining. So it's been pretty unpleasant out there.
Rhiannon's cough has been very bad so I've not wanted her to spend much time outside. She gets tired very easily. But Mum needs entertaining so I've found it a bit stressful keeping everyone happy and occupied.
Then poor Mum got ill and we have had to spend the past couple of days indoors. Of course, this coincided with Rhiannon finally getting a little better and wanting to go out! (It's OK - Mum's feeling much better now.)
We've still got a Christmas Market to visit - a "Must Do" for Mum; all the wrapping to do, food-shopping to finish - we still haven't got a meat to have on Christmas Day!
Thankfully, Tim has got some time off next week so hopefully we can explore Germany a bit more and have some day trips out and about.
I'm exhausted already!