Rhiannon and I have just returned from an impromptu long weekend in Basel.
A very good friend of mine moved there from Tokyo a while ago; her daughter is one of Rhiannon's best friends. When we moved here I was happy to be nearer to her and planned to visit 'at some point'.
Her husband moves jobs approximately every two years. It occurred to me that they'd been in Basel for over that time, so I got in touch urgently. Just in time too - they are moving back to Tokyo next week!
So we hopped on a plane for a quick visit.
We experienced a small hitch at the airport. Armed with my friend's address I strode through the exit and approached a taxi. I showed the driver the address and he said "No, you are in France, I can't take you to Switzerland"
"EuroAiport [Basel] is located in France, in the tri-national Upper Rhine Region, i.e. very near to Switzerland and to Germany."
How wonderfully quirky... one door leads to France and another leads to Switzerland! I wonder which one goes to Narnia?
Back through the airport again to exit into the correct country and this time successfully caught a cab to my friend's home.
Basel is beautiful.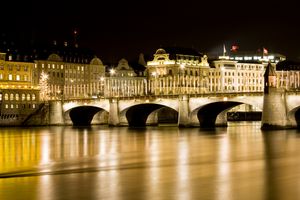 We had a fabulous time. The girls played while us mums drank pink champagne, grilled raclette and put the world to rights.
We caught the tram into the small and attractive city to visit Christmas markets. Münsterplatz was full of happy people drinking Glühwein and roasting marshmallows and damper over open fires. The girls wanted to climb to the top of the tower but my dodgy knee prevented me from joining them. Instead, I stayed at the bottom watching an enthusiastic busker playing some unusual bagpipes. I have no idea what they were (not the Scottish type, that's for sure) but the melodies produced were haunting and the sight and sound provided a surreal experience for me.
One of the highlights of our stay was meeting their new puppy. I say "puppy" in the loosest sense as a nine month old Bernese Mountain Dog is a heck of a lot of dog! She was utter gorgeousness on four legs and gave us a lot of love and fun.
All too soon it was time to head back to Berlin. But armed with an invitation to go and visit them again in Tokyo, it shouldn't be too long before we can see our dear friends again.