Oops, sorry for the long delay in posting. I've been a bit busy - will explain in another post.
So, Kita continued with her dramatic dying dog impression. This was mostly caused, of course, by the rather large operation she endured. But an element of it all was the dreaded vest she had to wear. Even with a normal collar on she drips around and appears dreadfully depressed so you can imagine her state of mind with a full body bandage encasing her! I tried explaining to her that it was far better than having to wear the 'cone of shame' but she didn't believe me.
Unfortunately, her immune system seemed compromised by the op and she developed a very nasty cough. Whilst in kennels in Japan she caught Kennel Cough and this seems to have given her a predilection for a bad chest from time to time. It only appeared the day before her stitches were to be removed.
She was extremely reluctant to go into the vet's building and, in fact, now knows the entire road it's on so we have problems long before we reach the door.
Back on the examination table, the wound was pronounced to be healing fast and well, even though she'd managed to sneakily remove the sticking plaster and one of the stitches. And then the vet started taking the stitches out. Oh boy, the Shiba Screams were the finest and most blood-curdling she's ever done and the vet was left somewhat traumatised.
She got a hefty jab of antibiotics for the cough and tablets for a week and then was placed on the floor ready to go.
The look she threw at the vet was comically evil and then she realised that she was vest-free.
As she made rapidly for the door I swear she said to me, "Quick! They've forgotten to put that vest back on me. Let's get the hell out of here before they remember!"
Her reluctance to walk was replaced by her usual exuberant bouncy stride and she was visibly  much happier. She couldn't get away from the surgery fast enough.
Back home she spent the rest of the day pouncing on her wood pile - mice live in it so it's a constant source of entertainment for her.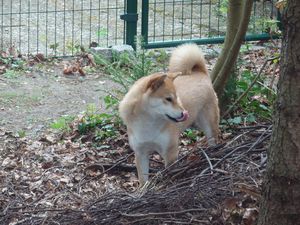 The evening saw her exhausted after her busy day and she crashed out, comfortable for the first time in nearly two weeks. It's wonderful to see her back to normal again.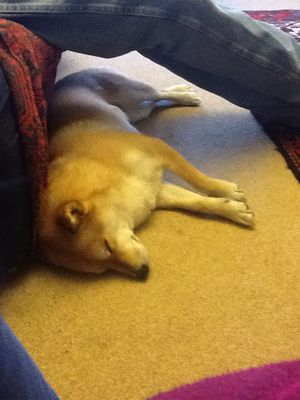 I've told Tim that he will be taking her to the vet next time - she's due her Rabies jab next month - I've more than done my bit. And besides, he's never heard the Shiba Scream... it's only fair he shares in this experience!