... or doesn't, in this case.
Kita and I returned from our walk this morning. As is usual, I went straight through the house and let Kita out into the garden.
Almost immediately she headed over to a bank of shrubs and a loud, flappy commotion ensued.
Out from behind the vegetation popped a Hooded crow. A youngster. It didn't seem injured but it was clear that it couldn't fly. Kita attacked it again; well, bounced it really, no teeth.
Everything happened so quickly. Kita went for it yet again but I headed her off. I don't know if she was going for the kill or her clumsy way of making friends. I wasn't prepared to take the risk to find out. And I wasn't sure if the cat had already had a go at it.
Crows are clever. So clever, in fact, that this one hopped straight through the patio doors and into the living room. Thinking quickly, I shut Kita out in the garden, much to her vocal disgust, and tried to see how the bird was.
It seemed unhurt. Shocked and scared, of course, but no injuries were obvious. I think it was newly fledged, hence the inability to fly.
Now what? I had my dog in the garden, the cat was goodness knows where and probably waiting to pounce, and a there was a Corvid hopping around my house. And it wasn't even 9am! No way could I send it back outside as it would definitely be killed.
A box. I needed a box, so I shot downstairs and spied the cat carrier. Perfect!
In it I put a small bowl of water and a dish of cat food and attempted to gently persuade the bird in. At first he wasn't having any of it but before long he went into a corner and froze, beak open and panting. I managed a closer look and confirmed he had no injuries at all so covered him with a small blanket to pick him up and put him in the carrier. I covered the carrier with the blanket so he had some peace.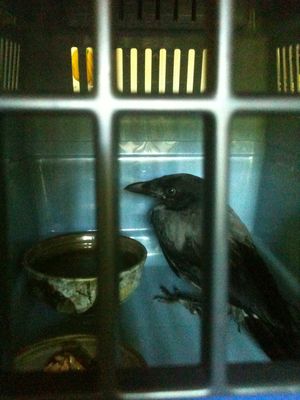 Then I made a much needed cup of tea and pondered what on earth to do now. Although I've always wanted a pet Corvid, this is certainly not possible right now. It couldn't possibly live here with the dog and cat, crows live for a very long time, quickly imprint on humans and we're off to the UK in the summer. No, I can't keep it. Hopefully all he needs is a rest.
He settled very quickly in the box. After about half an hour I peeped in and he'd fallen asleep with his head under his wing. Sitting in the food. Hmm.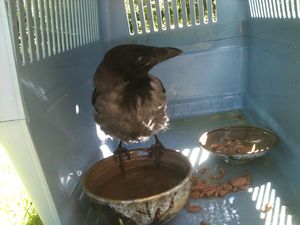 After a while he woke up and I heard some noises that indicated he was either drinking or eating. So I peeked again... now he was sitting in the water bowl. But the water bowl was empty as he'd tipped it all over the base of the crate.
He had to go back in the garden. Now. So I carried the crate halfway down the garden, got a large shallow tray of water and opened the door.
Out he hopped and bounced over to the tree whereupon he discovered he couldn't climb it like a woodpecker. Nope, definitely can't fly. But I was hoping his parents were around to help him do whatever it is he needed to do. Eventually, he hopped to the fence and to my surprise squeezed right through. That explained where he may have come from as there are no nests in the immediate vicinity.
All was well, I hoped. I heard crows calling so left him to it.
I had visitors then for the rest of the morning but as soon as they went a bit of a racket started up at the far end of the garden. Calling Kita in, I noticed a couple of adult crows flapping around in a tree but couldn't see what was going on.
Very shortly after, the young crow (who I am resisting naming... but if I did he'd be called Edgar. Or Poe...) bounced back into the garden. He made a beeline (crowline?) to the water dish and promptly sat in it. Perhaps he isn't the brightest specimen of his species.
And there he stayed for most of the afternoon, alternating with hopping out of the bowl and lying flat on the grass.
At one point, an adult crow flew down and went over to the baby, who begged for food. The adult responded in heartless fashion by grabbing the baby's tail and dragging him right out of the water. Then it stalked off, beak in the air. It glanced backwards once with a disdainful expression and flew away. It's not been back.
Edgar The young crow has had some cat food to eat and, apart from being unable to fly, appears well.
Later I will construct something safe for him to stay in tonight but I will not be gaining another pet. Really I won't. No... definitely not...
No.