Tuesday 12th April 2011 dawned... at dawn.
Rhiannon woke us up just before 5am with the excited news that she'd seen a red squirrel in the garden. Yeah, OK dear...
Unable to get back to sleep I got up, dressed and trotted downstairs where I took a look outside for the first time.
Wow! What a huge garden we've inherited. Our 'garden' in Tokyo was about the size of most people's bathrooms, while this one is a field by comparison. In the centre is an enormous beech tree with a swing and a rope on it. Aged initials are carved into the trunk. A few shrubs surround the edges with pines and conifers at the end. A couple of small raised beds sit near the house where a small clump of daffodils shine in the morning light.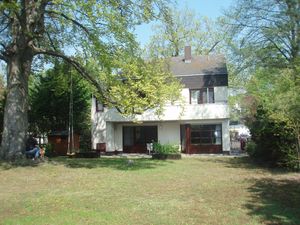 While supping my tea and drinking in the welcome green view I spotted a shape moving along the fence. Sure enough it was a red squirrel with a super-bushy tail. A proper Squirrel Nutkin! Gorgeous.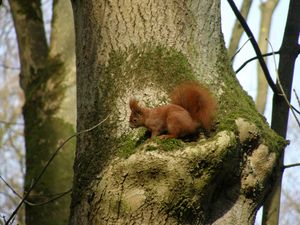 Rhiannon went straight out onto the swing and spent most of the day on it. It's so fantastic that she's finally got somewhere to play outside.
Time to evaluate our new home. Firstly I went for a quick walk around the garden to see what was there and to check that it would be dog-safe. It's not. The fence is only knee high so we can't let Kita out on her own untethered. What a shame. There's a lot of perimeter to re-fence; I can't see us being able to afford that. The weather's chilly and grey so I don't stay out for long.
Someone's left us a red folder with useful notes about living here. For example, details about recycling - but not when the rubbish collections are. Suggestions of places to go and what to do are also included. I peruse this, still in a daze of jetlag and travel exhaustion while Rhiannon happily swings away outside.
We've got a busy day ahead. Unpacking, of course. Someone's coming at 10am to tell us how things work in the house. We've an appointment with Rhiannon's new school at 3pm and we're hoping our pets will be delivered at around lunchtime. Tim's also expecting a call from the person delivering our new car telling him where and when to meet and collect it.
Unpacking takes forever. We don't have as much storage space here and I was horrified to see only one bookcase. I have thousands of books to come and no idea where they will go. Later we will have a restyle of the furniture in the house in an effort to make it work for us. I forgot to mention before - none of the furniture is ours, we have to make do with what's here and it's uninspiring to say the least. 
I'm also checking out where I will have my "office". Downstairs is open plan; bedrooms upstairs aren't quite right. However, we do have an enormous basement with several rooms, including a laundry room. But I cannot envisage working in a basement. I need to see outside.
We'll turn the main room into a den for Rhiannon, another is a laundry room and the others are damp and pokey. So it's either a bedroom or a corner of the dining room area again. I plump for the latter so I can see the garden. Not ideal, but it will do.
Now all I need is some paying work so I can justify buying a new desk!
Our 10am appointment goes OK. Due to the jetlag though, I didn't take in much. I asked about the possibility of getting a new fence and didn't get a very optimistic response. We'll have to wait and see.
Around lunchtime we received a phone call from the pet shippers. All's well, thank goodness, but we can't expect our furry creatures to arrive before 8pm. Customs clearance, I guess. They've had a horribly long trip. Japan to Frankfurt by plane, an overnight stay at Frankfurt's "Animal Lounge". According to their website the "lounge" can house every animal imaginable. I wonder what Kita thought of cows, horses and bears! Then they have to endure a road trip of about 7 hours to get to us in Berlin. Poor things.
The unpacking continued. 
And I will tell you about our afternoon and evening in the next post. Yes, it was a busy day.