Warning! Twitcher Geek post ahead!!
I've been hard at work writing an article about Japan today. I'll let you know if / when / where it's published in due course.
So I've had my head down most of the time, but when I look up for inspiration (ie... gazing into the distance, thinking) I notice my garden is full of birds.
Now I grew up in a bird-watching family so know most of the birds I'm looking at, but it's still a lovely sight to see them in my garden. There are also some of the more 'unusual' garden birds. There are a couple I'm unsure about as when I looked them up to find their Latin names, I discovered some alternate options, noted below.
Perhaps I should feed them, but Raymi-cat has become a little braver and ventures out in the late afternoon / early evening now, so it seems cruel to encourage the birds to what could be a premature and unpleasant death.
Anyway, here's my list of "Birds I've Seen in My Garden Today":
Black Redstart - Phoenicurus ochruros
Blackbird - Turdus merula
Blackcap - Sylvia atricapilla
Bluetit - Cyanistes caeruleus
Chaffinch - Fringilla coelebs
Chiffchaff - Phylloscopus collybita
Coal tit - Periparus ater
Common Redstart - Phoenicurus phoenicurus
Great tit - Parus major
Greater Spotted Woodpecker or Medium Spotted?

 

- Dendrocopos major / Dendrocopos medius

(I didn't realise the Medium Spotted existed until I looked the Latin name up just now, so I'm not sure which I had in my garden)



Lesser Spotted Woodpecker - Dendrocopos minor
Hooded crow - Corvus cornix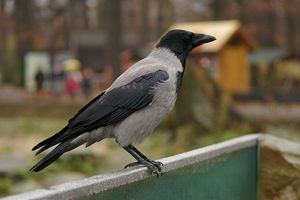 House Sparrow - Passer domesticus
Eurasian Tree Sparrow -

Passer montanus

(Again, not sure about this - to me, it looks similar to the House Sparrow)



European Starling - Sturnus vulgaris
Jay - Garrulus glandarius
Magpie - Pica pica
Nuthatch - Sitta europaea
Robin - Erithacus rubecula
White Wagtail - Motacilla alba
Wood pigeon - Columba palumbus
Wren - Troglodytes troglodytes
There are Nightingales around too, heard but not seen. And probably Warblers, but I can't tell one Warbler from another so tend to ignore them.
Perhaps I'll finally learn their differences while I'm here.