Sunday 3rd December 2006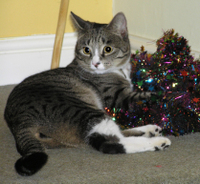 We returned home this evening, after a day out, to be met by the awful sight of my cat, Inti, dragging himself pitifully across the floor while Raymi fussed around him looking anxious.
Rhiannon was in hysterics and I wasn't far off. We had no idea what had happened, but his back legs were completely paralysed and a strange smell emanated from him. Tim's precious wooden carving from the South Pacific was in two pieces on the floor having originally been placed on the top of the bookshelf. So, our first thought was that Inti had been injured by the falling statue or some other mishap.
Not being useful in any traumatic situation, I immediately panicked and telephoned the first person I could think of, our liaison helper. But she was unable to find out where a vet would be at this time of night, on a Sunday.
Then I had a brainwave and sent Tim to our neighbours, who speak both English and Japanese, for help. They were fantastic; found a vet and offered to drive me and the cat over there immediately. By this time it was about 9pm.
We had trouble finding the vet, then trouble parking. But we made it in the end. A lot of paperwork had to be completed, in Japanese – there is no way I could have done this on my own, and I will be forever grateful to our neighbours. Finally, Inti was taken into be examined and I was asked to pay several thousand yen up front. We were told to go home and come back later after they had done numerous tests – it really didn't sound very hopeful.
At 11pm our neighbours received a call for us to go back.
It was very bad news indeed. Inti had a grossly enlarged heart – cardiomyopathy – probably from birth and there was not enough room in the ventricles to make it work properly. He should never have been cleared to fly over here. (The vet was really quite judgmental of me and made me feel worse than I already did, but my vet in the UK had said absolutely nothing to me about this, so how could I have known?)
The paralysis was caused by a massive blood clot in the artery leading to his back legs and the odd smell was his body shutting down. Inti was in an incubator with drips and so on in order to assist him and I was invited in to see him. Heartbreakingly, he purred and licked my hand as he normally does. I kept the British stiff-upper-lip as my neighbours were watching, but I think the vet thought I was heartless.
I asked for a prognosis. If he survived the night, Inti would never walk again, and must be kept quiet and indoors for the rest of his life, which would probably span only another six months at best. He would require daily injections and medication. This is no life for a two-year old cat, especially one who loved life and was particularly playful and spirited.
So I did what I believe many people would do – I requested that he be put to sleep.
I certainly did not expect the reaction I got from the Japanese vet. It was as if I was asking her to kill my child! "We do not euthanase", she snapped, "We are doctors who make our animal children better".
There was no point in arguing; to do so would have put my neighbours in a very awkward position and I was too stressed to think straight at this stage. So we went home.
The next day, I took a taxi to the vet to see how Inti was doing. I had to take Rhiannon too, which made the whole situation harder than it already was. He was alive, but incredibly ill. Once again he greeted me with purrs and licks. This was tortuous: he had no life ahead of him and the kindest thing to do would be to "euthanase" him, but this was hard to get across to the vet without Rhiannon hearing the conversation. Once again the vet refused.
Such a painful day: Rhiannon asked constant questions requiring in-depth medical information as well as asking distressing things like "would Inti die and be with Grandad". I told her yes, Inti will die as his heart wasn't well, but I didn't know when.
Another 24 hours passed, Inti was not recovering and the vets refused to put him out of his misery.
In the end I had to get the "fixer" at Tim's work to call them and make it happen. But even this didn't go according to plan, as I had to visit once again to "say goodbye" and to sign some papers. And the deed was finally done the following day.
The vets asked if I "wanted a bone". This puzzled and upset me, but apparently is common practise here. After the body is cremated (humans too) a vertebra is kept as a memento.
I refused.
And cried a lot.