(Yes, this is still continuing from the previous post for 12th April 2011)
Once we returned from visiting the school, my mind reeling at what I'd promised for Friday, I collapsed on the sofa. Desperate for sleep but knew I mustn't succumb as the only way to deal with jetlag in my experience is to try your best to work to the new country's times. It was only 5pm so I shouldn't sleep now however much my body craved it.
Fresh air. That's was was required so I hauled myself up and took a walk around the garden. Rhiannon is still going strong - I can't believe she isn't tired at all. Too much excitement, I suppose.
We were expecting our new car to be delivered today but had a phone call to say there was a problem at a customs location with two other cars on the transporter and Tim would have to collect ours from there tomorrow morning. As he has no idea where "there" is, he's enlisted the help of our fantastic liaison officer who will drive him over and Tim will follow him back home.
We're expecting the pets to be delivered by van sometime after 8pm. With no food in the house we have only one option; go to a restaurant for dinner.
Luckily there's an Italian Trattoria just down the road which turned out to be fantastic. The food was excellent, service superb and real Italian waiters. I got very language-confused, and the ice cold lager didn't help, although it did revive me.
We were stunned to see dogs welcomed into the restaurant. Very well behaved creatures, they just sat quietly under their respective tables. I still can't quite get over seeing dogs in restaurants and after coming from Japan which is incredibly dog-oriented, it was still something I'd never seen before. Can't quite imagine Kita being well-behaved enough to do the same though.
Back home, we promised Rhiannon she could stay up until Kita and Raymi arrived. Their first foray into their new home is planned. I've set up the cat's litter tray with some earth in it until we can get cat litter. Food and water is out and ready for them.
I'll let the cat out first in the kitchen then Tim and Rhiannon can let the dog out in the living area. The animals have a love/hate relationship with each other: the dog loves the cat... but it's not reciprocated. And the cat is in charge courtesy of a grumpy temperament and razor sharp claws. There are occasional moments of togetherness as the picture below (taken in Japan) shows.
At long last at 10pm a van pulls up and a very stressed-looking man comes in with their papers. Apparently it was a very, very long journey. I expect Kita whined and cried the whole way too. I felt sorry for the driver but was naturally more concerned for my pets.
I shot out to the van where two gorgeous furry faces looked out of their crates at me in a desperate and slightly accusing manner.
In they come at long last. Raymi gave me a slight purr and headed straight for his water and food. Much like normal there.
Unexpectedly, rather than greet us with effusive licks and leaps, Kita spent ages trotting and sniffing intently around the house, studiously avoiding us, much to Rhiannon's disgust. But the dog calmed down after she'd made sure the house smelled of us. I took her into the now dark garden so she could relieve herself and then fed and watered her. Both animals were extremely thirsty.
Finally Kita and Rhiannon went to bed together, followed very soon after by me and Tim.
The pack is finally back together again.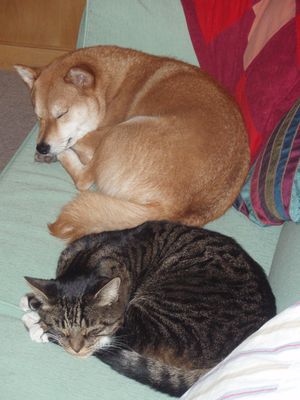 Perspective deceives - the dog is bigger than the cat, who is huge.