Friday 11th March 2011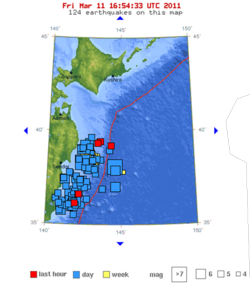 I'm sure today's date will become of historical importance in due course. As will the time 14:46. This is when Japan was struck by its biggest earthquake ever. Although its epicentre was some 230 miles north east of Tokyo, we were very much affected by it. 13/3/11 ETA The magnitude has been officially upgraded to Richter 9.
We were all at home. Rhiannon was off sick from school and Tim returned from work early to give me a break from looking after her.
At 2.40pm I was sat at my computer in the dining room while Tim and Rhiannon sat in the living room looking at something on the iTouch. I was Tweeting (http://twitter.com/Talloracle) and all was calm.
Our neighbours (and landlords) had visitors and were in their garden adjoining ours. Our dog was barking and growling at them. She considers all areas around our home to be her territory, so the barking was normal. But she never growls, so I got her to come inside. Perhaps she knew what was about to happen. She has done this only once before – when she was a pup, she barked and woke us up at 5am one morning and a few seconds later we had an earthquake.
By 2.46pm my computer screen started wobbling and the windows next to me rattled gently in their frames. This is not an unusual occurrence. We have many, many earthquakes here and there was a significant one yesterday. That one caused little disturbance here in Tokyo and many of my friends didn't even feel it. I did, but it was nothing like todays.
Today's earthquake was massively different as I'm sure you are aware from all the global news reports.
We all carried on with what we were doing to start with – it started fairly moderately; I mentioned to the others that we were having an earthquake as sometimes you can feel them in one room and not another. Also, I should mention that all our belongings were packed and shipped last week ready for our move, so we have no ornaments to clatter, pictures to sway or wind chimes to tinkle a warning.
But then the shaking got stronger and stronger and just did not stop. Normally the tremors stop after half a minute or so.
Rhiannon came around to me and said "should we get under the table now?"
A moment's beat – the water in the fish tank was getting very choppy…
"Yes, let's get under the table" – more to keep Rhiannon calm than anything else really at that point.
Tim came into the dining room as Rhiannon and I were joined by a rather scared dog under the table. There wasn't room for all of us.
The shaking increased in violence. My computer began to move across the desk. Tim grabbed hold of it at the same time as water sloshed right out of the fish tank and onto the floor. Oh my god! Then a drawer flew out of the sideboard and something crashed over in the kitchen.
Rhiannon started screaming. I was screaming in my head.
I couldn't believe the shaking was intensifying significantly and that it was still going on. I found out later this event lasted for about four minutes – that's one hell of a long time for an earthquake. It seemed a lot longer than that.
Time to get out of the house. The nearest exit was out of the French windows into our tiny garden. Tim couldn't open the door; he was panicking in a quiet way and turning the handle the wrong way. Once outside, the shaking was so severe we couldn't actually walk and had to crouch on the ground. Our neighbours were also on the ground.
We sat on the ground in the garden, hugging each other and looking anxiously at the house. One of the people in the garden next door came and said something in an urgent tone to us, "Do not go back inside, there will be another one!" Our landlord, an incredibly kindly gentleman, gave us soothing gestures.
I shot inside (yes, I know!) but I had to get the dog's lead. Rhiannon was in her dressing gown – remember, she's unwell. We went out the side entrance to the front of our house. Many people down the road were also out of their buildings and crouching on the ground. People were crying.
Finally, after what seemed like an eternity, the vicious shaking stopped. We gave it a few more minutes, then went back inside, leaving the doors open. You have to leave doors open as earthquakes can jam them closed. One of our spare rooms has a door that has jammed from a past tremor.
Tim took Rhiannon upstairs to get dressed. I came back onto the computer to see what the magnitude was and update Twitter. I was horrified by the preliminary magnitude, which, if memory serves (it's been a crazy day) was about 7.something. Then – OMG! We had ANOTHER one shortly after. Rhiannon hurtled down the stairs with her cuddly toys and a toothbrush in her mouth. Tim grabbed his cigarettes… priorities!
We spent the next 45 minutes or so repeating the above. Me coming in to update people on Facebook and Twitter, Tim to try and get Rhiannon into some clothes other than her PJs and Rhiannon doing every possible displacement activity she could think of. Then getting interrupted by another quake. I can't call them aftershocks as that implies something smaller, but all of these were big. The dog stuck close to me at all times, bless her.
At one point, a yell from Tim and Rhiannon upstairs: "Oh my GOD! Come and look at the bedroom!"
All the drawers had flown out of the chests and they'd toppled over. Then Rhiannon went into her room – her empty bookcase had fallen over. Thank goodness all our belongings have gone, the carnage would be terrible. The bathroom stuff was all over the place, but thankfully unbroken.
Next Rhiannon went into the spare room. "Mum, Dad! TV! Glass! All over the floor!!" Sure enough, the not-quite-so-little TV had toppled off the cabinet and appears smashed on the floor. We haven't investigated yet as another large quake sent us running outside again. But not before I'd managed a few photos.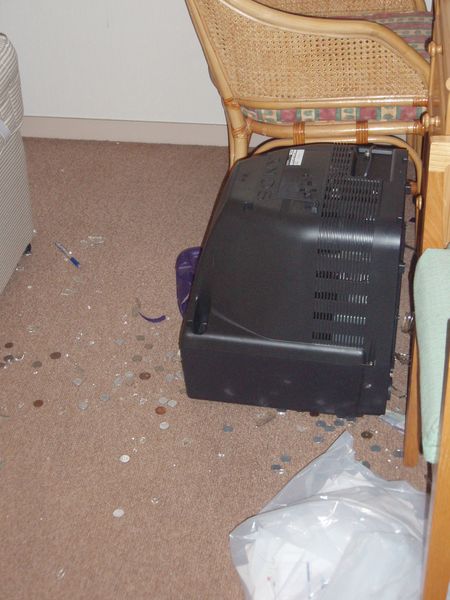 After a while, things calmed down a little. Tim spent a lot of time trying to phone work. But all the phone lines, both land and mobile, get automatically cut in the event of a big earthquake. So he had to make the decision to go back in to check all was well. This was at about 5pm. Rhiannon wanted to go with him. I figured this was a good idea as she was panicking quite a lot at home and being occupied elsewhere would do her good. I stayed at home to look after the dog who was considerably disturbed by all the comings and goings of the afternoon.
We tuned into the news just in time to see the devastating tsunami sweep across Sendai. Absolutely horrifying.
What does an earthquake feel like? It's hard to describe really. Each one has a different movement. Most of today's tremors have been akin to a boat rolling on a rough sea, rather than a vigorous side to side motion. Even after the ground has stopped shaking, you feel like you're still moving. Especially with the aftershocks – of which there have been too many to count. Aftershocks of 6.7 are not what I'd particularly call an aftershock, but a serious earthquake in its own right. Adrenaline surges and time stands still. Anxiously you await falling buildings.
Tim and Rhiannon headed off in the car for what should have been a 15 minute drive. After an hour, they called me on the Skype phone – stuck in a major traffic jam and nowhere near work. It was gridlocked out there.
I took the dog out for a walk. The scenes on the streets were incredible. Cars filled every available gap in the roads – no rude honking of horns, of course. This is Japan, that's just not done. And because all the public transport was stopped, thousands of people were walking home. Some of them will have hours of walking to do in order to get back to their families. Conbenis were full of people getting supplies of hot food and the queues were coming out the doors.
As I'd had all my doors open all day I was absolutely frozen, but didn't want to close them as the aftershocks continued almost non-stop. I had some food and a good old cuppa tea and phoned Mum before she switched the news on. Most of my friends and family are online, but a few aren't, so as soon as people hear the news they called me. It was a busy evening, updating concerned friends and family, and trying to reassure friends about various missing people. I was also desperately looking for my cat. He'd popped in after the big tremor, so I knew he was OK, but with the open doors, I thought he'd probably gone out again. I kept going out and calling for him to no avail. After several hours, I noticed a dark, fluffy tail poking out from a chair. He'd been tucked up under the table all the time!
Finally I heard from Tim at about 9.30 – that's 4 ½ hours to travel a 15 minute journey ; he'd finally made it to work and fixed the emergency phone system and other problems. Rhiannon had been offered a bed and a dose of Calpol by a colleague. There's no way they'll make it home tonight.
I've literally just heard from him again (2am here), the landlines are back up. Rhiannon is still awake and having a party! Tim's going to sleep on the floor of that house.
And there's no way I will be sleeping tonight. But I'm about to curl up on the sofa under a duvet and see what happens. After such a traumatic day, I can't quite believe that I'm not with my family. I just hope that nothing else happens tonight.
My thoughts are with all those in the north of the country whose Friday turned into such a terrible catastrophe.