1st January 2008
Yes! I've finally made it to another year – I really don't know if I will get Japanory up to date, but I will continue to try...
What a way to spend New Year's Day – a trip to the magnificent Fuji-san.
As Japan's highest mountain at 3776 metres, Mount Fuji dwarfs every other mountain in the country. It is the iconic symbol of Japan and a sacred and beloved landmark with its almost symmetrical cone looming so high that on a clear day it can be seen from many miles away including Tokyo.
Although Fuji has been dormant for over 300 years, the mountain is a potentially dangerous volcano which, if it erupts, would cause an enormous amount of damage to the surrounding area and Japan as a whole. For now though, it seems calm. The last eruption started on 16th December 1707 and continued until January 1708. Until this eruption the symmetrical shape of Fuji was about as perfect as a volcano could be, but this eruption created a new crater with a second peak half way down one side.
Due to the altitude, the climate near the top of Fuji-san is very cold and the peak is covered with snow and several months of the year.
Most cultures since time immemorial have worshipped spectacular mountains as sacred places and the homes of gods and Fuji-san is no exception. For many years the only people allowed to climb the sacrosanct mountain were monks, and women were completely forbidden to set foot on a mountain at all. This changed in 1860 when the first British diplomat in Japan, Sir Rutherford Alcock, was reluctantly given permission to climb Fuji. The ban on women climbing was lifted in 1872 after the wife of a British diplomat climbed a mountain in 1867. However she was not the first female to make the ascent. In 1832 a 24 year-old Japanese woman was given unprecedented permission to climb by a sect who worshipped Fujisan as a divinity in itself. She had to disguise herself as a man to show deference to the taboo.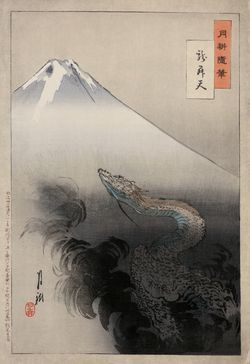 Nowadays anyone can climb Fuji if they so wish although it is not an ascent to be made lightly. The official climbing season is in July and August and during these two months the mountain is usually snow free and the mountain huts are open and stocked with oxygen cylinders. There is a saying that "you are wise to climb Fuji once, but a fool to climb it twice". Approximately a quarter of a million people climb the mountain each year, which when you consider they all climb it during just two months, makes it rather a busy place. Apparently the favoured time to climb is around the O'bon festival in August when some of the passes actually have long queues of people patiently waiting their chance to move on. There is a Torii gate near the summit showing you that apart from nearing your goal, you are on sacred ground.
I have absolutely no intention of climbing it. I don't do "uphill" walking if I can possibly avoid it.
Once you see the shape of Fuji you can understand why it has been depicted so many times in so many forms, and you also gain an insight into why much of the art in Japan is stylised. Fuji-san is the perfect real-life example of a stylised mountain. If you ask a child to draw a volcano or mountain the shape corresponds perfectly to Mount Fuji.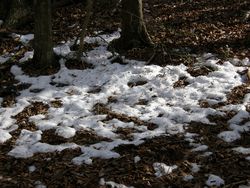 We were delighted to see some substantial snow there – it made it all very picturesque. Shame about the clouds covering the top. Mum hadn't come prepared for a snowy trip so wore all her clothes and borrowed a hat, gloves and scarf from me.
On the drive up, we found a place to stop and go for a walk through some woodlands. Snow dappled the ground, icicles in a tiny cave and intriguing ice crystals that had formed in the fallen leaves and soil. Rhiannon hasn't had much experience of snow, so had a marvellous time although we had to put a dampener on her enthusiastic snowball throwing. It hurt!
The views were amazing. I don't know what lake this was but five lakes surround the area - Lake Kawaguchi, Lake Motosu, Saiko, Lake Shoji, Lake Yamanaka, so I guess it was one of those… The feathery plants are my latest love – Japanese Pampas Grass, aka Susuki. It's considered a weed, but I adore its grace and delicacy.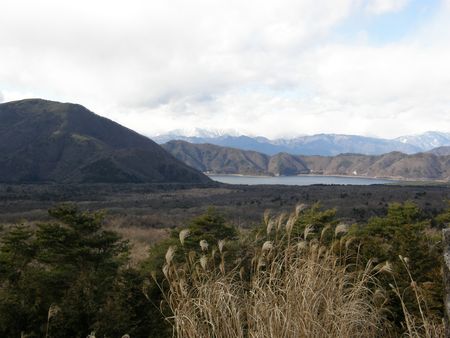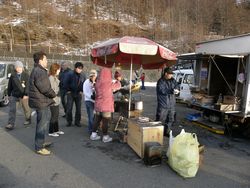 We drove up the winding road for as far as we could before the road was closed at 2020 metres.
According to the car's thermometer the temperature was -10C. A small car park was full and people milled around. There was a terrible stench in the air which turned out to be a mixture of this sweetcorn seller's wares and the most dreadful toilet in Japan. It was literally a hole in the ground and rather overused – I nearly dropped my camera down there, ugh.
And here's the standard photo to prove we were there - and cold - Tim is wearing his summer trousers! Then it was back into the snug warmth of the car to head back down the mountain to find some less stinky food.