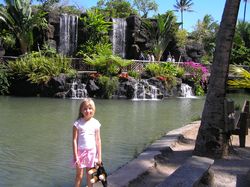 One of our big day trips was to the Polynesian Cultural Center. This is a sort of theme park without the roller-coasters that showcases the various cultures that make up Polynesia – New Zealand (Aotearoa), Fiji, Hawaii, Easter Island (Rapa Nui), Samoa, Tahiti, Tonga and others.
Very much geared towards children as well as adults, there were plenty of activities for Rhiannon to enjoy. The "countries" are set out in "villages" and you follow a trail to each one. Once at the "village" there are people there dressed in their traditional clothing and showcasing their culture and skills. For example, in the New Zealand village, we learned how to whirl balls on ropes around without knocking herself out. Poi balls – these were great fun and we bought a pair home with us which we still play with. We also played a game with sticks which was originally used to help hand-eye co-ordination for warriors. 
Rhiannon also had the opportunity to "fish" at one point on the route – using a bent paperclip on a length of string baited with a ball of stale bread. Being Rhiannon, she actually caught one! The tiny tiddler managed to get trapped in the loop of the paper clip – apparently nobody had ever caught a fish here before! Let's hope Rhiannon's luck continues like this throughout her life.
I was intrigued to discover that this lavish place was created by Scientologists  Mormons – in fact one could take a special train to their church some distance away. We didn't.
A colourful display was put on in the afternoon with watercraft full of people "from" the relevant countries sailing up the river. Lots of music, dancing and all in all the day out was a fascinating and vibrant experience. (More babble after a load of pictures of the parade)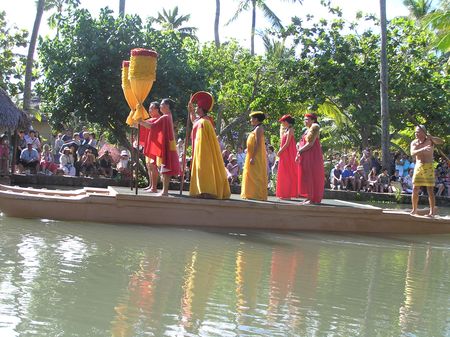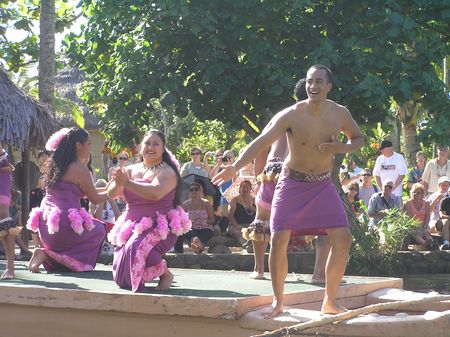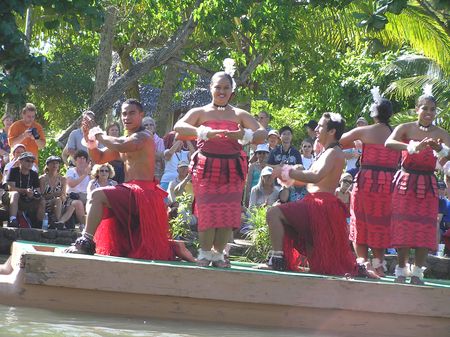 We had dinner there too (well, it was all included in the rather high price). The hall was enormous and we had to eat at a set time; it seemed like thousands of Americans were there too. We were placed at a long table with a number of other people, ate pretty bland food and watched a show from a great distance.
All the people we met were absolutely astounded to meet Brits in Hawaii. It's a heck of a trip to make from the UK, but not so bad from Japan.