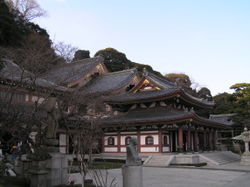 Next stop was the Hase Kannon Temple, covering a large area with little gardens and many different shrines to various kami, or gods. We climbed up the steep steps to the top of the hill where the main buildings were located.
On the way up, we spotted thousands of tiny statues dressed in little cloaks or clothes and surround by childrens' toys. These are symbols of of the deity Jizo, the guardian of children and commemorate stillborn children. A very moving sight indeed.
Once at the top, we found a terrace with a fantastic view over Kamakura and a welcome cafe selling coffee and snacks. We also were amazed to see lots of black birds of prey swooping overhead. Of course, none of us had binoculars and, although the birds were close, we couldn't identify them.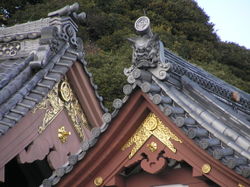 The temple buildings are magnificent, with ornately decorated rooves and many ornamental carvings. 
Back down the hill again and an exploration of the lower levels. Rhiannon has a 'thing' about Koi, and sits next to the water singing to them! This has to be done without anyone watching, so we maintain a discreet distance while she entertains the fish, who seem to rather enjoy the attention. Or perhaps they were hoping for food as they all came up to her and gathered in a mass of orange and white at her feet.
We also found a cave-temple, indicated by the special red torii gate. According to the English guide leaflet, this. along with a wooden building outside, was a temple to the goddess of feminine beauty and wealth, Benten. Of course, I felt the need to go and pay my respects so in we all went.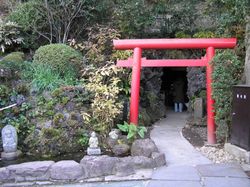 The cave was hewn surprisingly deep into the cliff and the one-way route through was dotted with small candlelit alcoves enclosing various sculptures. After a while, the ceiling got lower and lower and I suddenly realised Mum was not looking too good. Almost too late, I remembered she was claustrophobic when in caves (about the only thing that she is scared of!) and swiftly ushered her out into the air again. I felt very guilty for encouraging her in there, but she recovered quickly. I hope we were in there long enough for the 'feminine beauty and wealth' influence to work.
We were pretty much done with temples and shrines by now, so decided to wander back through the town and see what goodies the shops held: a great cure for the little panic we'd just had.
Kamakura is famous for a special brand of lacquerware, which is painted a dull red. It isn't to my taste really; I prefer the shiny black lacquer.
However, we did find a little souvenir shop that was crammed full of all kinds of items, large and small. Mum fell in love with a large, kimono-attired doll carrying a branch of wisteria over her shoulder. The wisteria was a gentle buff colour, and the kimono a dazzling red and gold. Expressing her interest to the shop-keeper prompted a loud shout out to someone in the back of the shop. The shop-keeper's husband appeared and an animated conversation between them ensued, then the husband scuttled off out the door.
We were extremely puzzled, not having any idea what was going on and with mum only wanting the doll off the shelf. However, all soon became clear as the husband returned after 10 minutes with a new doll in a box. This doll was similar, but the wisteria was a virulent purple, rather than the faded beige on the shelf-dweller. It clashed terribly with the kimono and Mum insisted on the original. The owners couldn't believe it, and kept insisting that she take the new one. At least, that's what we think was being said. Naturally, the customer is always right and Mum was amazed that they insisted on reducing the price by about a third. A great deal, and a lovely souvenir that now graces prime position in Mum's home.
Tired, yet happy with our real day out, we headed home to digest all the sights we'd seen. My favourite of which was seen on the way back to the station... a small, extremely noisy motorbike that appeared to be homemade. It was very square, looked most uncomfortable and was painted bright orange.
It was also emblazoned with the name "The Nutcracker"! It looked to be an accurate name.