29th March 2007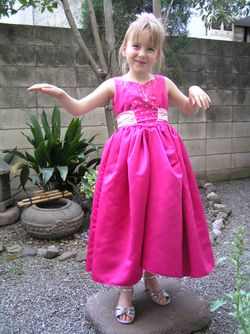 What a fabulous idea! All the Reception year children are having a proper Ball this afternoon as an end of term treat. Parents are not allowed, except for a quick visit to take photos. Rhiannon tells me they have been practising dancing at school; "proper dancing - with BOYS"! From this I presume the teachers have attempted to instruct the children on how to waltz. How I wish I could be a fly on the wall.
The invitation states "Wicked Step-mothers and Step-Fathers to leave immediately. Ball starts at 5.30pm; carriages at 7.30pm"!
The theme, well considered for 5 year olds, is "Princes and Princesses". My little diva girl is so excited that she spends the entire time from returning home from school until it's time to leave getting primped and pampered. She wanted make-up, which I duly applied then rubbed most of it off before she noticed. Of course she HAD to wear her high-heeled sparkly silver shoes (bought by Tim, not my choice!)
And she gets a chance to wear her bridesmaid dress again, so that makes us both happy. I spent a lot of money having that made and there's little opportunity for her to wear it as it's too precious for standard dressing-up games.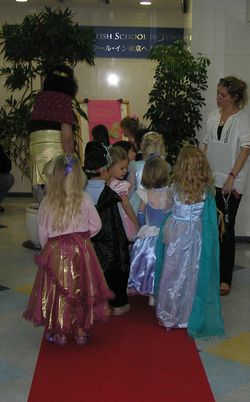 We arrived at the school to see a long line of delightfully dressed up kids and proud mums. The school have even set out a red carpet for them to walk on, how thoughtful.
It's very easy for girls to dress up, but for boys, the challenge is somewhat more difficult. But there are so many extraordinarily resourceful and creative mums that the Princes looked fantastic. A lot of work had gone into their outfits.
A professional photographer was in place and each child had their picture taken by him before moving downstairs to the gym; sorry Ballroom.
Wow! The teachers had really pulled out all the stops and had turned it into a beautifully magical place. It was quite dark so was hard to see who else was there let alone take photos. The ceiling was decorated with streamers and fairy lights, a live band made up of some of the teachers played at one end with a bar set up at the other end. My daughter headed straight for the bar...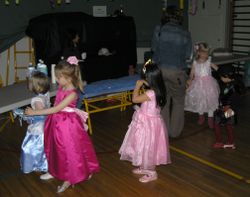 She completely ignored me from that point on so I was able to catch a rather scary glimpse into the future. I took some snaps to remind me that these childhood years don't last long and soon this bar-hopping, boy-chatting-up and partying will be "for real" in the not too distant future.
Before long, the order rang out that all parents were to leave. Reluctantly we drift away. I grab a quick hug from Rhiannon before she heads back to the bar and torments a boy or two on the way.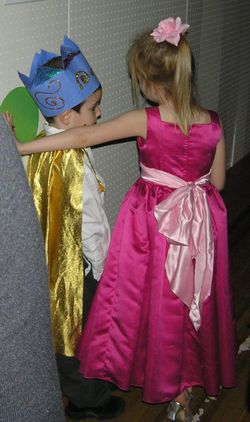 After the Ball I collect a rather dishevelled, tired and over-excited princess who had an absolutely wonderful time. She wouldn't tell me much about what they did, but she was extremely impressed with the live band because she didn't realise her favourite teachers could "do that"! I tried to find out who she danced with, but she wouldn't tell me.
Perhaps this was a good lesson for us parents too.