Saturday 23rd August 2008
It's time to head home to stifling Tokyo from our short break in the cool mountains.
Rather than set off back the way we came, I insist on travelling a different route because I really want to see the famous "Snow Monkeys" which apparently reside nearby (according to the tourist guides).
It turns out they aren't that nearby but some considerable distance away over a series of really high mountains. Tim took a bit of persuading to make the detour but as I said, "I visited a dam for you, please let me see the monkeys"! He knows how obsessed I am with wildlife so he agreed.
Thank goodness Tim enjoys driving, especially over mountains with hairpin bends on every corner. Higher and higher we went, until we were swathed in the clouds. But wait! They aren't "sky clouds", as we discovered when we opened the car windows. The stench of sulphur assaulted us immediately. These are not any old mountains, they are living volcanoes! We made it through unscathed and found the town which goes by the intriguing name of Jigokudani, meaning Hell Valley. It took us a while to find the Jigokudani Yaen-koen - Hell Valley Wild Monkey Park (what a rather off-putting name!).
Snow monkeys are Japanese Macaques which range wild throughout most of Japan. Road signs warn of their presence in much the same way we see cows on road signs in the UK and Australians have their kangaroo signs. Macaques are not friendly and have no fear of humans, often raiding homes and shops in rural areas. Having been chased by a troop of Long Tailed Macaques in Malaysia some years ago, I know they can be very scary en masse.
These seemed placid enough though – perhaps Japanese Zen has affected them.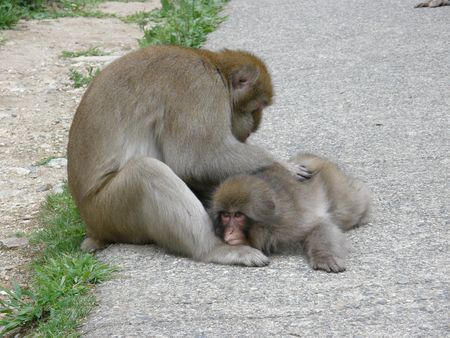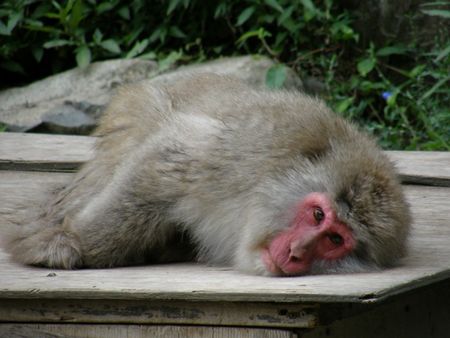 Rhiannon is very nervous about being so close to so many monkeys, until she sees this little one. Kawaii!
And then these two.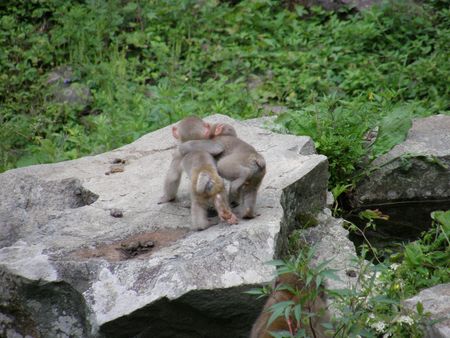 The park is home to a series of hot springs. It used to be a village but everyone moved out once the monkeys learned to use the springs to warm up in the freezing mountain winters. Since then, the area has been home to just the monkeys. One was bathing, but as it's August, obviously the Snow Monkey name is a misnomer.
A sign at the entrance warns that although these monkeys are wild, they are used to humans but under no circumstances should you take any food or drink into the park. Of course, someone did (not us, I hasten to add) and was immediately set upon by a cheeky juvenile who stole the paper bag of food the visitor was carrying. The young monkey was then roundly scolded by an older monkey and the spoils of the raid confiscated by her. While she was attempting to open the cellophane packet the juvenile sneaked up behind her and snatched back the treasure. All hell broke loose at this impertinence and a keeper came out of a hut with a catapult! He fired a few pebbles into the fighting troop and they dispersed, leaving these to inspect the remains of the bag for any last titbit.
This visit well worth the extra long detour in my opinion. I'm so glad we made the effort.