December 2007
We are not great party goers, but there are two we must attend for work reasons. And another I choose to attend at lunchtime because I adore the lady holding it.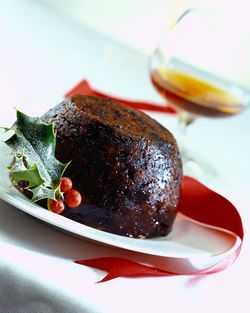 So on 6th December I had a real Christmas lunch with turkey, sprouts and all the trimmings. How wonderful! Goodness knows where the sprouts came from as I haven't seen them in the shops here. And there was Christmas pudding too! (I bought mine from Nissin a few weeks ago when they first hit the shelves so I didn't miss out for our Christmas dinner like last year. I also later found sprouts - they cost about £1 each!)
Our host is a long-term member of the "trailing spouse" community and has lived in many countries; including Japan some years ago. She regaled us with tales of trying to find lard so her cook could be taught to make pastries and Christmas pud for the visiting dignitaries of the time. Apparently the look of horrified disgust on the butcher's face was well worth the trouble of trying to explain precisely what lard was. And here it's perfectly normal to eat some very peculiar things indeed!
The next event was a kids' Christmas party which was very well attended. An enormous decorated tree was in danger of being pulled over by hoards of over-excited children so another room was opened up for them to charge around in. Dinner was served, but hardly any of the children ate anything – luckily we hungry parents didn't let the delicious titbits go to waste.
Strawberries are a traditional Christmas food here and the chefs had turned them into little Santas by slicing the pointed end off, squirting some cream on (for the head & beard), popping the end back on – the hat – and adding little eyes. Very cute… and very tasty. Strange to eat strawberries in December, but that's when they are in season here so taste incredible.
A lady magician gave an excellent show that Rhiannon couldn't stop talking about. Especially as she was asked to come on "stage" and assist with one of the trick. The magician was so good even I couldn't work out how she did that particular trick.
Then Santa paid a visit! Oh the excitement!! Dragging an enormous sack with him full of presents too!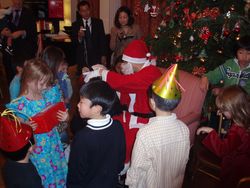 The children waited incredibly patiently for their name to be called and each one got their gift. I think the photo says it all, really!
A few days later it was time for the adults Christmas party at the same place. People got very dressed up for this, some even wearing full length gowns.I didn't. I did buy some "posh frocks" before we left the UK last year, but it turned out I lost a bit of weight in the stressful run-up to our move... and quickly put it back on again when we got here. Nothing fits me anymore. And naturally, there is no way I can buy anything here - it's hard enough to find clothes to fit me in the UK.
This time we all sat at large round tables with an incredible amount of food available. There were the most enormous turkeys I've ever seen, done to perfection with all the trimmings and more. Later we had a ceremonial dimming of lights for the flaming pudding to be shown off and after that, a quiz. Hah! Luckily we were at a table with some extremely clever people as the questions were very hard, and included some tricky questions purely for scholars or native Japanese. Our table won! The prize was a hamper of British food which then had to be shared between about 15 of us. I remember there was also a teddy, which as the only parents at that table, the others kindly donated to us.
Finally, we were told that whoever was sitting on a chair that had a ribbon tied around it got to take the table's flower arrangement home with them. I won that! So it was a very lovely evening and a great start to the Christmas season.Two full Christmas dinners, as well!
The flowers lasted long enough for Mum to see them when she arrived on 20th December.