Still May 2007 but I'm going by photos now, rather than my diary as I think it's more interesting...
My days usually go like this:
Am rudely awakened at silly o'clock by my daughter who has no concept of time. If she's awake, then everyone else must be woken up too.
I am not good in the mornings.
Get dressed and drag myself downstairs for a cup of imported tea. And am somewhat revived but still extremely unsociable. Anyone in their right mind should avoid me in the mornings.
Provide breakfast for child. Chivvy child along in order to eat breakfast in less than 2 hours.
Start shouting at child to get ready for school. Why this takes so long, I'll never know. If she gets up at 5am, why is it always last minute out the door? Super dawdler when it comes to getting her out.
School run. Stress out finding a place to park in the overcrowded carpark. Car got scraped one day in there - most parents drive huge people carriers, even if they have just one child. (Please ignore the previous post about Landrovers - I don't drive it).
If it's a Tuesday, then I get a super caffeine hit at Starbucks and a lovely, calming gossip with my friends before returning home to a lovely clean house, courtesy of my delightful helper. Tuesdays are nice days.
On every other day, I come home and work, work, work before repeating the school run / car parking fiasco again. I'm a freelance writer and also do a lot of editing, proofreading, formatting, uploading on to the website and heaps of miscellaneous business stuff. I often work very late into the night, especially around deadline time once a month.
While working I listen to British radio through the PC, sometimes on Listen Again which is odd when I hear old news stories; sometimes live so I hear shows I'd not hear in the UK due to the time difference.
So it's easy to forget where I am in the world.
Until I walk outside and see something like this on a bush.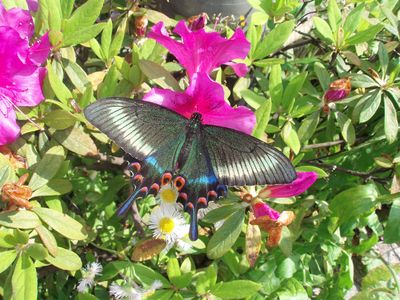 It's a stunning butterfly and about the size of my hand! If anyone can tell me what it's called, I'd be very grateful.