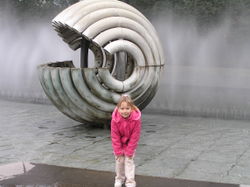 We left the Palace as quickly as possible as we were all in desperate need of toilets!
Eventually we found them at an area decorated with several water sculptures and glorified fountains, which didn't help our predicament while queueing for the loos. After answering the call of nature we played amongst them for a while and pondered what to do next.
It was lunchtime and we needed food. Tim mentioned a nice hotel he'd stayed in on a previous visit, so we headed there.
The New Otani was certainly spectacular, but we were unfortunately too late for lunch at most of the restaurants, of which there were many. After some lengthy searching over several floors, we discovered a Chinese restaurant that was prepared to serve us and we gratefully settled down. Mum has not eaten Chinese food for years after developing an allergy to monosodium glutamate, so we were a little apprehensive, and she just chose soup.
Rhiannon surprised us immensely by being extremely proficient at using chopsticks. She's never held them before, but she was determined not to let that beat her and persevered with great success. We were amazed and proud of her tenacity.
The resultant bill was beyond astronomical and we made a note to eat there again only on extremely special occasions. I was already planning on choosing this hotel for our first wedding anniversary celebration!
After lunch we went into the extensive and beautiful gardens. Mum and I were delighted to see lots of lovely ladies dressed in stunningly gorgeous kimono daintily stepping over the rocks that traversed the ponds.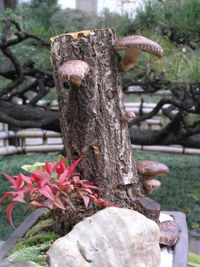 An enormous red jasper stone stood in splendour on one side of the garden. I adore stones, so communed with this lovely old rock for a while. Then I spotted the most bizarre bonsai or miniature garden I have ever seen. It was an upended log studded with large toadstools. Amazing!
Mum was flagging a bit by now, so we didn't explore the whole garden and resolved to visit again at Easter when she returns.
Once again, Rhiannon insisted on singing to the Koi. I have no idea where this idea of hers came from, but it is very sweet. We have to keep our distance while she performs, but my camera has a zoom lens! Of course, the fish all gather around her expecting food: but she believes it is her "magic singing" bringing them to her.