Some more photos from last year's UK visit.
Rhiannon got to spend some time with a very special friend. First time she's seen him since her fifth birthday party! And they've always kept in touch. I'm so pleased we were able to get them together again.
This is on Dartmoor: Kita does NOT like water, as you can see!
At Powderham Castle. One of our favourite tourist spots, great for a day out for both adults and kids. Highly recommended. And serve one of the best Devonshire Cream Teas in the area. Also good for ghost hunting.
During the summer months, there are lots of activities and shows for the visitors to Powderham Castle: this was an interactive Robin Hood type tale with plenty of audience participation. Great fun!
And now for something completely different...
My Mum has an enormous Christmas cracker that's been around for as long as I can remember. I believe it was also around when Mum was a child. When I was a kid, it occasioannly came out packed with lots of treats. But since we haven't had a Christmas in the UK for some considerable time, it's been relegated to the loft.
Rhiannon does remember it though and had mentioned it a few times. So between us, Mum and I concocted a plan to create a summer cracker. OK, well Mum did all the work, but I did suggest it!
It's almost impossible now to buy the 'bangs' for crackers - 'elf 'n' safety, innit? But I found some discounted make-your-own crackers in John Lewis so bought a couple of boxes to cannibalise for the 'explosives'.
Isn't it fabulous?!
And isn't it HUGE?!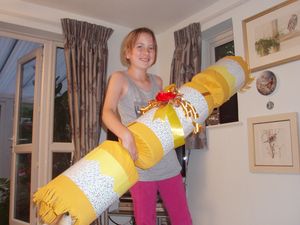 It made a good bang and had some lovely surprise gifts inside. I love crackers!