Yesterday, our neighbourhood experienced the horrific sound that is the Shiba Scream.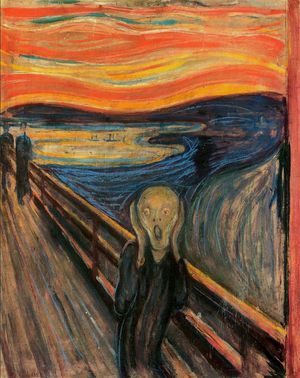 Unless you are familiar with the special breed of dog that is the Shiba Inu, you may not be aware of this ear-splitting phenomenon.
Shibas are very vocal. Don't get me wrong, they aren't a noisy breed by any means and rarely bark for no reason. It's just the variety of sounds they make. They have a wide range of communication methods. They howl, yodel, mutter, mumble, yelp, yip, hoot, trill, whine, snort, huff, and growl-speak.
And very, very occasionally they do the Shiba Scream.
The sound causes anxious neighbours and people several miles away to call in the police, as it does sound like someone, or something, is being horribly tortured.
Most Shiba Inus perform this terrifying sound when they're forced to do something they don't like: going on a lead, having their claws clipped, being bathed... that sort of thing.
Kita, however, hasn't read the "Shiba Inu Behaviour Manual".
I've only heard the real scream a handful of times. Once when she a tiny puppy and wanted me to stop the car so she could pee (I couldn't translate her speech in those early days. Luckily there was a towel in the car which she thoughtfully used instead). Another time when I accidentally trod on her foot (oh, the guilt!) and a couple of occasions during a 'poo incident'; Shibas do not like poo sticking to their furry butts. Nor do they appreciate the natural outcome of eating string and their owners attempted assistance...
And yesterday. Twice. At full force.
We live on a corner plot with a cul-de-sac road that runs along the length of the back garden. A couple of dog walkers we've met sometimes pop down to visit Kita in the garden. The most regular visitor is an enormous Boxer called Butch and his owner, who I've nicknamed Rab...
I heard Shiba noises and a human voice outside so peeked out to see what was going on. It was Butch and Rab on quick visit. I stayed indoors and carried on with my ironing.
A few minutes after they left, the air was ripped apart by the loudest, most blood-curdling scream I've ever heard. It was followed by another, even louder one.
My heart stopped and I rushed outside to see what had happened, terrified that Kita had impaled herself on a plant support or something equally dreadful.
She was by the fence absolutely fixated on something on the ground just out of reach. Alternating between digging and poking her paw through the gaps, she was on a mission but to no avail.
I peered through the twilight. Butch is obsessed with a very well-chewed rubber ball and carries it everywhere. Sadly, for Butch, he'd left it behind after seeing Kita. And this is what she was trying desperately to reach.
The screams were of total and utter frustration!
I risked life and limb to bring her inside; there was a very real possibility that she would burrow her way out. I intended to get the ball out of sight, but Tim and Rhiannon arrived home at that moment and I forgot.
Kita's memory, however, is incredible. Today she dragged me down the road to see if The Ball was still there. To her joy it was and she played with it a while.
I've now left it on our front wall for Butch to find later. 
She's lucky she's gorgeous...