At the end of half term, Rhiannon and I caught the Magic Bus for a special day trip. We went to see an exhibition of Ukiyo-e by Hokusai at the Martin-Gropius-Bau museum.
"Featuring over 400 works organised according to the various stages of Hokusai's career, the exhibition is the first major retrospective of Hokusai's work outside Japan in recent memory."
As well as a chance to see some of the most famous and popular Japanese art, we also met up with a friend of mine from Tokyo who moved to Berlin in the summer. Rhiannon and her son are the same age and were in the same class in school in Tokyo; they get on well together and she was really excited to see him again.
The exhibition had been extended for a few days so we were very lucky to get to it. Apparently the queues had been around the block for most of the time it was here. Although it was busy on our visit, there was enough space to be able to enjoy the art.
Ukiyo-e is a combination of drawing, wood carving and printing which has produced some amazing and very famous works. The 'Great Wave off the Coast of Kanagawa' by Hokusai is probably the most widely known Ukiyo-e print.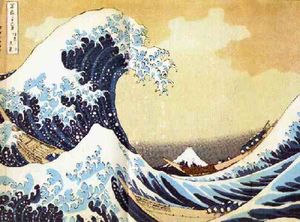 With over 400 original art works in this retrospective, and with two kids in tow, we weren't able to fully appreciate every single one of the pieces, but what we did see was fantastic. The amount of work that goes into creating each piece is astounding. We watched a very informative and inspiring film showing every painstaking step of the process. The patience and skill required is incredible.
Seeing the original of the 'Great Wave' was akin to seeing the 'Mona Lisa'.
Many others were worthy of mention too. I was particularly impressed with some of the 'Puzzle Pictures'; these had kanji characters hidden in in the outline of the picture. Rhiannon and I had fun trying to work these out. She also enjoyed the pictures depicting ghost stories. Luckily, the labels were in English so we could easily read them.
And just as she was flagging and getting bored I noticed a picture designed to attract the most jaded of children. It was entitled "The Fart"!
Need I say more?