Saturday 24th May 2008
Rhiannon's favourite sensei is representing their dojo – Pacific Aikido – at a massive exhibition in the amazing building that is the Nippon Budokan.
Unfortunately, we missed his time on the mats but met him at the Metro station.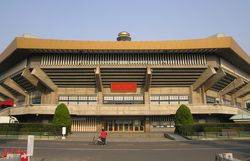 This building is magnificent. It was originally built for the judo competition in the 1964 Summer Olympics and its name translates as Martial Arts Hall. It's also the place where many rock concerts are held; the Beatles were the first to play here in 1966 and the round hall has hosted many great names ever since.
Today, however, the focus is on a breathtaking display of Aikido. Numerous mats are set out around the stage with the audience seated in layers above them. It was hard to see the actual movements as we were so far away from the show. But one performance was outstanding; a very ancient gentleman stood in the centre of one mat and was set upon by about 20 people. He fended off each and every one with barely a movement.
I was more fascinated than Tim and Rhiannon were, so we didn't stay long. No money was lost though as entrance was free.
(This is the interior of the Budokan set up for a concert)