Saturday 2nd June 2007
My calendar entry for this day just says "BBQ - take food and drink". Luckily my photos reminded me more about the event.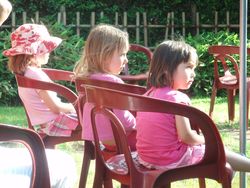 It was held on a sunny day, held and attended by most of the families at Tim's workplace. The kids had free run of the playground, the adults had free run at the icy lager and sausages. There are a few children of Rhiannon's age so she had a fabulous time. And they are at an age where they all wear pink!
Something that I've noticed here - whenever a photo is taken of a Japanese person, the photographee holds two fingers up in a V sign - the peace version, not the other one so prevalent in the UK… It hasn't taken long for Rhiannon and the other children to pick up on this pose! Note the famous drink - Pocari Sweat! Great name, harmless taste and not too many chemicals to set Rhiannon off on one of her post additive hyper sessions.
Games had been set up for the children to play. One of which was a Japanese special called "Nagashi Somen" or "Flowing Somen". Somen are a type of noodle served cold during these hot summer months. The flowing part comes from the fun part… a thick bamboo tube is set up on a slight slant and iced water is poured down it - along with the noodles. The game is to catch the noodles with chopsticks before they fall into the drain. This isn't just a children's game, by the way, some restaurants do this and recently a new Nagashi Somen record distance was set with the tube running for 2,500 metres!
Then we were treated to an amazing Taiko performance. Drums touch a very deep part of my soul and, although I don't have the co-ordination to drum myself, I more than appreciate the beat. Drum performances of any kind always set the hairs on the back of my neck up. Sometimes they move me to tears. Weird, I know! Taiko isn't just drumming - it's an athletic performance art with stylised movements and poses. Mesmerising!