Wednesday 23rd May 2007
Today, school is having its annual Japanese Day. The kids dress up as something typically Japanese and participate in various cultural activities such as Ikebana, Sho-do (Japanese calligraphy) and origami.
The note from school made comment upon the types of outfits the children could wear - presumably to get more variety and imagination. Suggestions include manga characters (I have no idea about these and no real interest to be frank), aikido Gi, and various uniforms worn by most workers in Japan.
However, a five year old girl is, of course, going to want to wear a kimono.
Rhiannon has a nice little souvenir-type of "kimono" which will do. Despite her protestations that she wants a Real Kimono, they cost a huge amount of money, so the answer is a firm "no"! I did buy some tabi - little white socks with a separate toe so they fit the zori.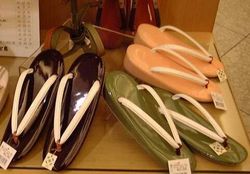 Zori are shoes with a wedge-type heel (shown on the left).
Geta (below right) are another type of sandal that has either a separate heel or blocks of wood at each end. The latter look impossible to walk in and are commonly worn by men in traditional clothing. I have actually seen men riding scooters wearing these!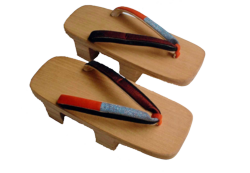 I also bought a gold "obi". Again, this isn't the real thing but will certainly do for a small girl for what is, essentially, a fancy dress day. A real obi is the wide belt that wraps twice around the body and then tied at the back in an incredibly complex knot. Formal obi for women measure 4 metres long and 30cm wide and are made of silk brocade, often heavily embroidered. Young girls tie their obi in a butterfly bow, while older or married women use a simpler fold called a taiko because it is drum shaped. Like men's bow-ties, you can now buy pre-tied obi apparently.
Now, bearing in mind that we are in Japan, attending a school with many children of Japanese descent, I'm worried that I will not get the dress right. There are very specific rules to wearing this beautiful outfit and I am terrified about getting it wrong and offending someone. Getting properly dressed in the full regalia is extremely complicated and people can take classes on how to put on a kimono. There are also professional dressers for hire.
So I spent a LOT of time researching and reading about the subject. Absolutely fascinating!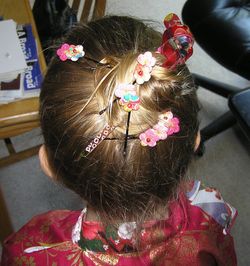 We got up early in the morning to get Rhiannon ready. I was pretty sure she wouldn't want to wear the outfit all day. Plus running around at break time… so I made sure she had shorts and a t-shirt on underneath for the inevitable disrobing. I pinned up her flyaway hair with about 100 clips and consulted my book for the correct way to wrap the kimono… wrap the right side of the kimono over the body, then the left side wraps over the top. Right on top of left is only used to dress a corpse for burial.
So I checked and double checked. All good. Added the "obi" and tied it in a wonky bow (I've never been able to tie a nice straight bow), and put the belt of her kimono over the top of the obi. I was rather pleased with my efforts.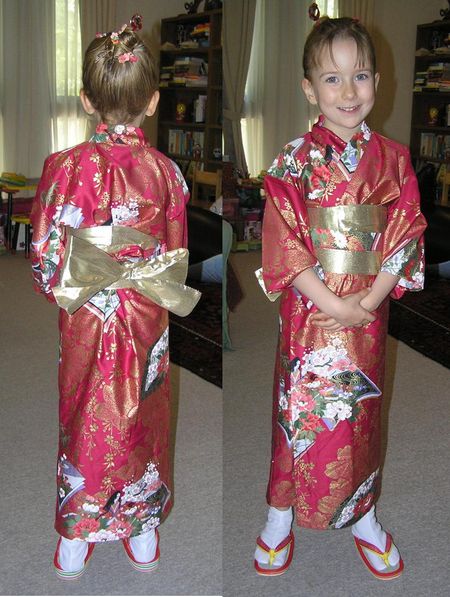 So off we went to school to be greeted by the striking sight of hundreds of little girls in colourful kimonos, looking like a rainbow of butterflies, but much louder. Such a beautiful change from their normal dull navy uniform. The boys were wearing a range of Happi coats and aikido gi, but the girls stole the day.
Then I saw my good friend Yoko and her daughter Natalie, my heart leapt into my mouth.
Oh my god! Natalie's kimono was wrapped the opposite way to Rhiannon's. Had I made a huge mistake? If anyone should know the correct way of wearing this, it would be Yoko, being pure Japanese and having studied her culture too. Yikes!!! So I asked her.
Laughing, she shrugged and said she'd always had someone dress her in kimono so hadn't taken much notice. She didn't know which way round and besides, she was running late and didn't notice.
I think I may have taken this a bit too seriously! But the research I did was interesting and absorbing and provided material for one of my Tokyo Tales articles.
At the end of the school day I collected a very dishevelled Rhiannon. It's already pretty hot here at this time of year, so although she was still wearing her kimono and obi, she was all disarrayed and extremely hot. She said "my tummy was too hot in the obi and I wouldn't want to wear this all the time! I couldn't run properly and my legs get tangled up".
The major highlight of her day was this:
"There's a MAN teacher in year one and he dressed up in a PINK kimono and had a pink wig too!!! He's really funny and I hope he's my teacher next year!"
(Note - Rhiannon attended a State school in the UK for a couple of months where there were no male teachers at all. She genuinely did not know that men could be teachers. I've spoken to other friends with children in the UK school system and they all say the same - there are few, if any, male teachers. What a sad reflection of the UK society that men no longer feel safe in a teaching environment. I fondly remember many of my male teachers - mostly for their eccentricity, sometimes for their teaching. How things have changed. And not in a good way.)