6th - 7th September 2007
[From Wikipedia - A Pacific typhoon or tropical storm is a tropical cyclone that develops in the northwestern part of the Pacific Ocean between 180° and 100°E.]
In other places it's called a hurricane.

Basically it's Weather with a capital W.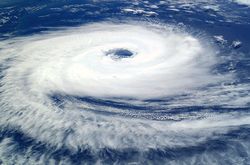 Well, here's a new experience. It appears Tokyo is in the path of a rather nasty typhoon. Apparently it is due to hit between 6pm and midnight and is likely to be rather bad....
Meaning that school may well be cancelled tomorrow as well as all the other activities we have planned. All sorts of horror stories are being imparted to me about houses being blown over and so on.
At least with earthquakes you have no warning (I never thought I'd ever say that with relief!). Having this warning makes it more worrying as I have time to think about it! The current prediction is for approx 110 mph winds. Eek!
So, hopefully this has all been blown out of all proportion and I will be around as normal, or... goodbye and thanks for all the fish!
Later that day I sent a message - "It's very windy and pouring with rain, but nothing out of the ordinary yet."
Abridged from a local news source on the day:
Japan issued warnings for high waves, strong winds and flooding, and more than 140 flights were cancelled as Typhoon Fitow approached Tokyo with gusts as high as 198 kilometers an hour (123 miles per hour).
The eye of Fitow was about 250 kilometers south of Tokyo at 8:50 p.m. Japan time today, according to the latest advisory on the Web site of the Japan Meteorological Agency.
The storm was moving north at 15 kilometers per hour. The eye of Fitow is forecast to make landfall on the Izu peninsula, southwest of Tokyo, at about 10 p.m. and pass over the western outskirts of the capital a few hours later.
The agency issued warnings for high waves, heavy rain and flooding for Tokyo and surrounding prefectures because of the typhoon, which is classified as 'strong'. The storm is expected to dump 50 centimeters (20 inches) of rain on Tokyo and adjacent areas.
Another message I sent: "It's now 1130pm and I'm still here! The name of the Typhoon - Fitow - means "beautiful fragrant flower", seriously! It's only got a name because it originated in Micronesia. The Japanese Met Office, being unsentimental souls have given it a number – 0709.
By the next morning it had all "blown over" with us waking intact in our own beds and not in the middle of the adjacent park as expected
The main problems appear to have been out of the centre of Tokyo.
Again, an update from a local news source: Heavy rain and strong winds lashed Tokyo on Friday as a typhoon neared the capital after killing one person, injuring at least 35 and cutting power to tens of thousands of homes. (a tree fell on the man, and other injuries were people being blown over or having car windscreens smashed) In Tokyo, train service was disrupted and pedestrians struggled to hold onto umbrellas. (sorry, but this made me laugh!)
Some kids didn't go to school but all the non-Japanese went in as normal. The British amongst us were puzzled as to why a little rain and wind would stop people doing normal things!