4th January 2007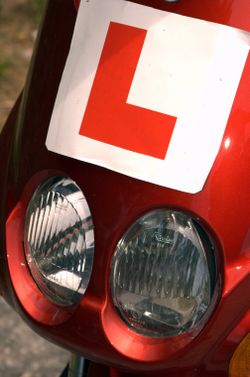 Mum's flying back to the UK today and we are due to go to the Driving Test Centre to get our Japanese driving licenses sorted out.

 

 

Two cars are coming to collect us, one to take Mum to Narita Airport and one to take me, Tim and Rhiannon to the test centre. Both cars are due at the same time, 8 o'clock in the morning.  With our lack of language skills, the potential for a comedic outcome is very high. Can you imagine the confusion? What if Mum gets in the wrong car and ends up at the license centre?!

 

 

Luckily, it all worked out just fine with the car taking Mum to the airport arriving first. Of course, it was sad waving goodbye to her but she'll be back again in just a few months for Easter. She's a great traveller, my Mum, and spends her year travelling to remote areas on botanical trips, hunting rare flowers and then committing them to paper: she's a recognised and successful botanical artist. Not bad for a lady in her seventies!

  

  

 

 

So, on to our adventure at the Japanese driving centre...

  

 

 

This was something Tim sprung on me at the last minute so I had no idea what to expect. Mind you, neither did he, so we were both entering the arena blind. The plan was that our driver, loaned by Tim's work, was to accompany us in to help with translations and other necessary guidance.

  

 

 

With plenty of books and colouring-in paraphernalia to keep Rhiannon occupied, we nervously set off. Personally, I was more nervous of how Rhiannon was going to react to a lot of waiting, which was the only thing we'd been warned about. However, she was remarkably good, which made a change!

  

 

 

We arrived at the centre at about 8.30am and discovered there was absolutely nowhere for our driver to park. So we ended up sending him back and entered the unknown realm alone and apprehensive. Not only that, but we would have to find our way back again on public transport which was a daunting prospect – but that was after the first trial – getting through the licensing procedures unaccompanied.

  

 

 

The building reminded me of a school; cavernous, painted an institutional beige with rooms, corridors and doors everywhere. Various young people wandered around like lost souls so we joined them in our search for the correct place to start.  

  

 

 

With great relief we found the route to the "Foreigners" area was signposted in English. Our first port of call was a small window half hidden in a corner where we handed over various items of paperwork to a stern woman to deal with. And then sat and waited. And waited some more. This was the main theme of the morning.

  

 

 

Suddenly another couple of gaijin arrived from a different direction. They'd already been through this process so I pounced and grilled the poor people on what happens next. I do like to be prepared, and thankfully they were extremely helpful and explained what precisely would happen amidst the waiting.

 

They told us that we would have to take a sight test and explained what this involved, which was very useful.

  

Being British, we wouldn't have to take the practical driving test, thank goodness! This is reserved for those foreigners who drive on the right: Japan drives on the left (hooray!), so makes it so much easier for us Brits to convert our license.

  

 

 

Our names were called and we were directed to another department on a different floor in order to pay our fees, then return to the same window again. After some more waiting, we were sent for our sight test.

  

 

 

A large room in yet another part of the building was the setting for this. Our spirits sank at the sight of a long queue of people snaked along the corridor, but the process was remarkably quick.

  

We reached an inspector with a grim and bored expression on his face. He was sat in front of a large grey machine. I went first and sign language was the order of the day. Translation:

Inspector: "Do you wear glasses or contact lenses?"

Me: "Yes"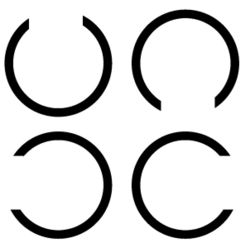 Inspector: "Read this" and thrust a laminated A4 sheet at me which showed how to do the eye test. I was given very little time to read it before he snatched it away again, but luckily I can speed read so understood what was expected of me.
There were several circles with segments missing and I had to show which side of the circle the gap was. (See the picture for a visual explanation). There was also to be a colour test; primary colours to be identified. Easy!
The sight test commenced with me looking through binoculars attached to the grey machine. A screen lit up with a circle on the top right. I had to wave my arms to show which position the missing segment was on. The circles bounced around the screen getting progressively smaller and smaller. Fun! The colour test was a breeze as the inspector had obviously learnt the English for red, blue and yellow. Again, coloured lights were flashed up on the screen and I just had to state the colour.
I passed!
Then it was Tim's turn... Hah! He didn't read the document fast enough and went a bit Basil Fawlty, raising his voice a little too much. Besides, I think it was time for the inspector's break as he was getting a little fed up by now so there seemed to be some misunderstandings along the way.
Translation:
Inspector: probably thinking, "oh no, not another gaijin" "Do you wear glasses or contact lenses?"
Tim: "HUH?"
Inspector: "DO YOU WEAR GLASSES OR CONTACT LENSES?"
Tim: "YES!"
Inspector: "HUH? DO. YOU. WEAR. GLASSES. OR. CONTACT. LENSES???"                    
Tim: "YES, I. WEAR. CONTACT. LENS" pointing to one of his eyes (he wears lenses in both eyes, by the way).
Inspector: rolling his eyes now, handed Tim an eyepiece to cover the one eye he'd pointed to... obviously thinking Tim wore just one contact lens! So Tim had to do the sight test with one eye.
The colour test was even funnier. For some reason best known to himself Tim thought the colours were traffic light colours, so instead of saying "blue" he kept saying "green"! By this time the inspector was visibly annoyed and possibly about to fail him, so between my giggles I whispered to Tim, "It's blue, you twit!"...
Eventually, he passed too.
Time for a break... so we went for a can of vending machine coffee and a cigarette to recover before the next bout.
Now we had to get a photograph taken as the ones we'd brought with us were unsuitable for some reason. So off we went to yet another room for our pictures to be taken, and then to another place so we could stamp them out to the right size. And back to "our window" once more for some more waiting.
Oh, at some point we also had to watch a video about safe driving, but as we couldn't understand a word of it, we took the opportunity to have some more coffee and a snack.
Finally, at 12.30pm we were finished and left the building clutching our brand new Japanese driving licenses. What an interesting morning!
Finding our way home was a little tricky as we had only vague directions in Japanese to get to the train station, but obviously we made it.
I wonder if and when we will get a car? It will make life so much easier.