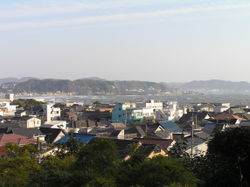 Boxing Day dawned bright, crisp and sunny, encouraging us to decide to make a 'proper' day trip somewhere.
We decide to venture to Kamakura, a small town about 50km south of Tokyo with a long history and many ancient temples. Situated on the coast of the Pacific Ocean, Kamakura was once the capital of Japan during the eponymous Kamakura era, from 1185 to 1333.
We set off to the Metro, our route all planned from our guidebooks. Catch the Metro to Shibuya, find the correct platform for an overground train to another station, change lines somewhere a long way outside of Tokyo, then a final train to Kamakura. Quite daunting really, especially with the lack of English language signs at the stations.
But amazingly, we made it without a hitch! We felt very proud of ourselves as we stepped out of the station at Kamakura, ready for a day exploring old streets and numerous Buddhist temples.
Pacific Ocean! What does that conjure up for you? For me, it brings to mind images of warm, blue seas and exotic palms lining soft, white sandy beaches.
Now picture the complete opposite. Firstly, the weather in Kamakura was cold. Very cold. And windy. Secondly, we couldn't see the sea anywhere. Or anything much else either. There was a long, wide road outside the station bordered by pretty much nothing! We looked around for a tourist office, map or anything that would tell us which way to go, but found nothing. Using the old adage that downhill was the way to go to find the sea, we set off in that direction, huddling into our coats and wishing we'd worn hats, scarves and gloves.
After walking for about half an hour, we all started to get rather fed up: we still hadn't seen anything worth travelling all that way for; no signs to give us any indication of where these famous sites were, no shops or restaurants where we could stop to trya and ask directions, and still no sign of the sea! We'd also gone a little too far to turn back and try the other exit from the station - which, in retrospect, is where the initial problem started - we'd exited on the wrong side.
So we continued plodding down the road, cold and grumpy, when suddenly we scented the sea and felt sand being blasted into our faces with the strong gusts of wind. Finally, the sea was seen. Not the blue, calm waters I envisioned, but angry, grey, squally and with many 'white horses' showing their manes in the surf.
Now what? There were still no signposts to be seen anywhere and we hadn't come all this way just to be exfoliated by the extremely bracing sea air. Just in time to prevent a mutiny, we spotted a restaurant and made our way inside. I use the term 'restaurant' loosely here as it was more of a 'diner' with formica tables and uncomfortable chairs. But it was inside, warm and promised some kind of food and respite from the elements.
A waitress brought over the menus and thankfully for us, we discovered something common in eateries here that is very useful to us non-Japanese readers / speakers; all the dishes are pictured. So, although we have no idea what they contain, we can get an idea of the item from the photo and just point to our choices. We ordered hot drinks and food and recovered from the cold while debating what to do next.
Fortunately, the cafe had windows all around so we could get a rough idea of the lay of the land and made the decision to head "that way". Thankfully, it proved the correct direction and we shortly ended up in the actual town of Kamakura, rather than its unprepossessing suburbs.