Friday 30th March 2007
Today school finishes at midday for the Easter Holidays. Quite a relief for both of us, I think.
Parking was atrocious, so I had to leave the car parked illegally on the road and grab Rhiannon as fast as possible to hustle her up the road before the parking wardens' ticket me.
Home, quick lunch then, as it's such a beautiful day, we decide to go to Shinjuku Gyoen garden to see how the cherry blossom is coming on.
Hanami is the traditional Japanese custom of 'flower viewing' and the flowers to be viewed are Sakura, the beautiful, delicate cherry blossom. There is a sort of forecast, called, sakurazensen, where the blooming of the sakura is followed up through Japan from south to north and is announced each year by the weather bureau. The reason for this is that parties, hanami, need careful planning due to the ephemeral nature of the cherry flowers which only last a week or so.
Hanami is basically a day long party beneath a convenient sakura tree. Someone stakes their claim to a particular tree very early in the morning of the party by laying what seems to be a standard issue blue plastic tarpaulin upon the ground. Claims are not 'jumped' and the parties are very refined compared to any similar event in the UK. The loudest I've seen was a group of youths, (who in the UK would have been paralytic with alcohol, rowdy and annoying) but here were… skipping! Slightly drunk, singing songs and skipping with ropes! Unbelievable, but true.
Anyway, this afternoon was stunning and, as it wasn't a weekend the hanami parties hadn't started so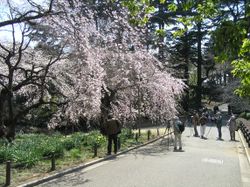 we were able to see the enormous variety of flowers without interrupting a party. There were a few people around, mostly photographers who queued up to get the best shot of a particularly beautiful tree. Many of the trees aren't fully out yet, but it won't be long.
I'll let some of my photos tell the story now.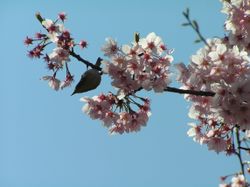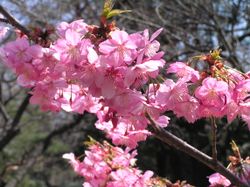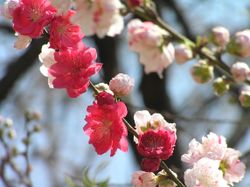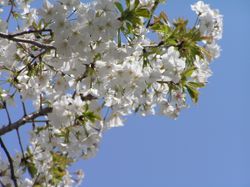 I have hundreds of Sakura photos! I found them irresistable and decided I need a new camera so I can get closer to them for more interesting pictures.
I already have about 5 cameras... none of which do precisely what I want!