Mum flew back to the UK yesterday. During her fortnight's holiday here, she was encouraged to take control of my garden. Thankfully, she was more than happy to do this. She has her own massive, well-tended and fully-stocked garden and, as such, it no longer has space for new plantings.
So, on seeing my woefully under-planted and over-neglected plot, the cogs started whirring in her botanical brain and she came up with A Plan.
First of all, we analysed the space (large and empty apart from some mature, but boring shrubs), see what the soil was like (very sandy loam with little or no nutrient content. Probably acid as there are many rhododendrons growing in the neighbourhood) and work out the hardiness zone (zone 6, rather colder than the UK which comes in at about 8). Thank you Google!
The cold winters make it tricky to choose plants as they may not survive. I hope we've made good choices.
Next we needed to dig over the front garden and remove the many hundreds of oak seedlings sprouting from giant acorns dropped last year by the tree outside the gate. Digging over the back garden, however, proved impossible for us. The massive beech tree in the centre (estimated to be about 400 years old) has a very invasive root system. Also, the garden hasn't been tended in years so the other roots have created an impenetrable mat that needs heavy machinery to get through.
Tim tried to dig a patch near one fence and it took so long and so much effort to create a tiny area that he resorted to a drastic solution... he bought a rotavator! It revolutionised the preparation and gave him a 'toy' to play with; always a good incentive to do some gardening.
Another thing preventing our digging was discovered: a pavement of square granite cobbles about 8 inches below the soil. Tim painstakingly excavated many of these and I used them to create a low wall around my Japanese garden-to-be.
He also unearthed a used bullet casing, believed to be from 1939 and British. We're researching it at the moment.
One of the two raised planters near the house was full to the brim with raspberry canes. While these provided a good crop earlier in the year, they were very ugly. And as this is my view from my desk, I wanted something more inspiring to look at. They also annoyed the hell out of Mum so this was her first foray into Gardening for Carole.
Incidentally, this gardening thing is reciprocated by me. When I visit in the summer I spend time in her garden removing the bindweed, clearing pondweed and pruning trees and shrubs she can't reach.
Finally, we had a large new flower bed ready for planting and Mum and I spent happy hours at a fabulous garden centre. We got a bit carried away but have a great selection of plants we hope will survive the winter. The garden looks fabulous now.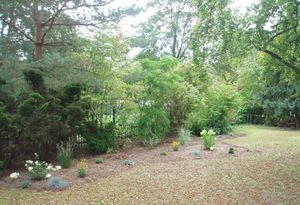 None of this was easy with Kita 'helping' in her own special way. She assisted in pulling out the unwanted roots but sadly didn't understand that newly planted items were not to be dug up... She also took exception to gardening gloves and removed them at every opportunity. Another favourite occupation was chasing the water down little channels and 'making mud pies' with her paws. Mucky puppy!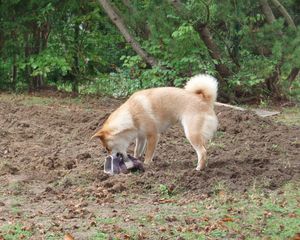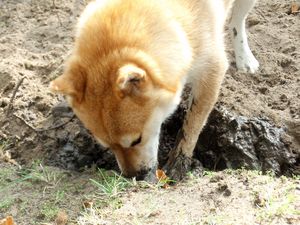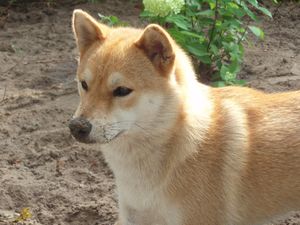 Interestingly, there are absolutely no worms in the back garden at all. I know worms are good for breaking down heavy soils and ours is nowhere near heavy, but I think worms in the soil indicate a certain good health. Anyway, I can't bear worms. But Mum found a couple while digging the front garden and came trotting around the back to me holding them triumphantly in her hand. Yuk! She was most put out at my refusal to rehome them in the back garden.
We've had a lovely couple of weeks doing the gardening and the results are very satisfactory.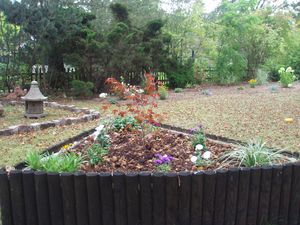 Thank you Mum. I promise we will do some more touristy things when you come back at Christmas!