Good morning! Just a quick update on yesterday evening's night out.
In my opinion, it was a great success. This means I wasn't over or under-dressed and I did not drink too much and embarrass anyone. The people were interesting and (very) intelligent. And further entertainment was provided in the form of a small, well behaved dog.
I was very taken by the floral displays everywhere. They had a touch of ikebana about them and made me realise I miss my classes in Tokyo and probably need to find a florist's soon so I can practise more.
There were about a dozen guests and at 9pm we were served the most incredible supper. Silver service all the way with a dizzying array of glasses and cutlery. I remembered how to use them too!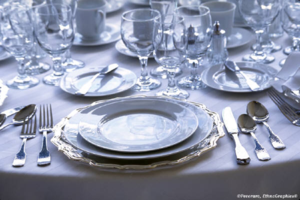 A mouth watering selection of salmon started off the meal, followed by delicious, tender beef and gnocchi as a main course and for dessert, mixed berries with a parfait of some description. I couldn't translate the menu and I didn't feel I should ask what was in it.
I was placed next to our host and at one point was put on the spot to talk about the subject of an article I'm writing this week. All I've done so far is light research, so I surprised myself at being able to recall an 'interesting' fact about it. The whole table went quiet to listen, so perhaps it's more interesting than I thought! That's a very good way of clarifying thoughts on a tricky article though. Now I'd better write the damn thing before I forget - it's due at the end of the week...
After supper, we went to the drawing room for coffee and everyone headed outside. The garden was beautiful but I was cold so went back in with the charming hostess and chatted with her for the rest of the evening.
We left early to rescue our new babysitter. After all, it was a school night. She was extremely lovely and level headed and Rhiannon adored her. So did the dog, to the extent of jumping clear over the sofa several times and generally being a typical OTT Shiba Inu.
All in all, a fabulous night out and I feel so much brighter having had other adults to talk to for a while.