Thursday 17th March 2011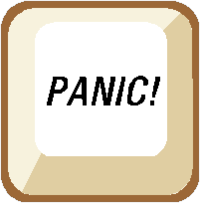 Oh my god! The panic in Tokyo today was unbelievable!! First thing this morning my inbox was full to the brim with messages from friends in the UK and Facebook friends had posted links to various UK newspaper headlines with dramatic impact such as:
"GET OUT OF TOKYO NOW"
"BRITS TOLD TO GET OUT OF TOKYO TONIGHT"
"THOUSANDS FLEEING THE CITY IN A PANIC OVER RADIATION LEAKS"
Holy ****! I checked other papers online and most said the same sort of thing.
What on earth had happened overnight to prompt this melodramatic journalism?
I checked my many sources, and found a paragraph on the FCO Travel Guidance site had been changed slightly, and could have been misconstrued by anyone not reading it properly, or those with little knowledge of semantics…
But the journalists stopped reading at that line and made their sensationalist headlines. Well, it sells the papers, I suppose. But it also misleads everyone and for those of us with friends and family in the UK meant we had a lot of explaining to do later today. Naturally they were terribly upset. After all, isn't everything you read in the papers true?
Of course it isn't. Luckily, most people realise this, but still, it creates panic where none exists. Apparently the TV and radio were just as bad too. There's a particular story in one paper that is wrong in every single respect but I don't want to give them more hits, so I'm not going to link to it here. Whether it was the interviewee lying or creative journalism, I don't know.
The FCO site has now updated its travel advice to make it clear that British nationals currently in Tokyo and to the north of Tokyo should consider leaving the area. Consider being the operative word here. This advice is totally unrelated to radiation, which as I stated yesterday will not be an issue even in the worst case scenarios. It is purely because of disruption to travel, power and possible food shortages.
I guess my rant against the media comes from this: I have been approached by numerous media companies requesting interviews and such.
Initially I thought this was a "good thing" and I had a tiny piece with my name on it in The Times on Monday (and even that was misquoted). But I have since realised they are mostly only after horrendously awful stories. Take this request from a TV station I received today, for example: "when things go wrong in Fukushima, and there's a death cloud going towards Tokyo, we would like to talk to as many people as possible"…
<Insert many expletives here>
Anyway, I emailed, Twittered and Facebooked soothing words wherever I could. Made a mental note to call Mum early, before she read her paper. Then I got on with my day. I took the dog for a nice walk in the glorious sunshine and admired the early cherry blossoms, helped Rhiannon make her Lego train, read a magazine, bought food (yes, there is food in the shops).
Life is going on pretty much as normal here in Tokyo. It is not a ghost town. People are no longer queuing for food, although they are for petrol. Children are playing in the parks. Obviously we are panicking wildly here.
Then I came back to the computer.
Wow!
An email giving details of a special chartered flight out of Tokyo tomorrow was waiting for me. What on earth was going on now? They need to have an answer by this afternoon. To be honest, I'm still not entirely sure why this was set up, but there it was.
Back on the phone again… And got firm confirmation that the radiation levels are absolutely fine, and will remain fine (I keep repeating this, but look back at yesterday's post with the briefing transcript). We are in more "danger" from aftershocks – which seem to be calming down now (hope I haven't just jinxed Japan by writing that) and walking home at night in London is statistically way more dangerous than living in Tokyo.
Should I stay or should I go? I went through the pros and cons of leaving – I couldn't think of any pros and the cons are too complex to go into here.
We're staying. Basically I cannot actually leave this country until our leaving date of 11th April. So, if I do have to move anywhere, it will be further south in Japan, but goodness knows where as I have no family or friends there. As for potential blackouts, transport problems, food and fuel shortages, well, we're only here for another three weeks or so, and can certainly cope for that long. We were expecting a blackout tonight but that didn't happen. As long as Tokyoites continue to be frugal with electricity, we should be OK. All the neon lights that Tokyo is famous for are switched off.
My only regret is that it looks like school may not open again for some considerable time and friends have disappeared overnight, so Rhiannon and I won't be able to say goodbye to people properly.
We have a visitor staying with us at the moment (what an introduction to Japan!) and this evening we decided to go out and find a restaurant for a meal out. We discovered the most amazing little bistro down a back street near where we live. Just one lady customer was sitting in there and we were welcomed with open arms. The menu was all in Japanese but the chef did a sterling effort trying to explain what the items were. He was translating into Italian, so I managed to grasp the basic items. Delicious!
The lady customer spoke perfect English and we spent some time discussing recent events with her and the chef. She told me that on the day of the earthquake people had to walk home as the trains stopped. Many had to walk for hours and hours and along their route Japanese people were offering them tea, coffee, rest, beds for the night and the use of their bathrooms. A huge department store over Shinjuku station allowed stranded travellers to sleep in the store; fed them and basically made them as comfortable as possible. Naturally all the staff had to stay there too in order to look after the temporary refugees.
This they did happily.
This is Japan.