Thursday 21st August 2008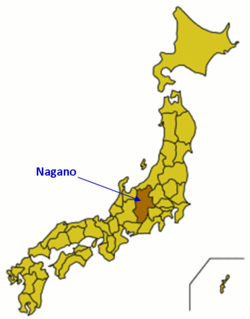 In the northern Japanese Alps lies a ski resort in the Nagano Prefecture called Hakuba. There are two seasons here – the white season and the green season. Skiing or no snow, basically. Its claim to fame is that it was the location for some of the 1998 Winter Olympics events.
It took us ages to get there – about 5 hours if memory serves. Japan has a strange road system when it gets to the mountains. Marvellous views abound and just as you see something particularly beautiful, the road turns into a tunnel right through the mountain so you can't see anything. Some of these tunnels are literally miles long. I'm sure the engineering is to be admired, but I would prefer to admire a view of nature.
Tim's booked us into a lovely hotel recommended by people more wealthy than us… he still complains about the cost now! But it was absolutely beautiful and wonderful to see a little bit more of Japan. There was a Jacuzzi bath outside on the balcony and an almost private onsen next to our room. I am not allowed into public onsen (natural hot volcanic spring baths) as I have tattoos which are banned here. But I took a look and nobody was in there so I was finally able to experience this very Japanese activity. My word it was HOT! But the sulphurous water was very soothing and made my skin extremely soft.
The restaurant was special and we were entertained by a minute little girl of no more than 2 years old who was running around with glee. At one point she was hurtling through a door when we appeared on the other side ready to take our table. Instantly she came to a halt, stood to one side and bowed deeply and very formally to us. She was enchanting and I still can't quite get over her graceful and natural manners. It's incredible how this can be instilled into one so young, yet there it was. Her parents were nowhere to be seen so there was no prompting from them. It was completely natural to her. I think it's a deeply ingrained respect for others that is sadly and severely lacking in the UK.
How often do we have to remind our children to say a simple "please" or "thank you" before it finally sinks in to become as natural as that? I wish I know how they do it!