I've mentioned before that I'm not too on the ball in the mornings
Driving to school one day I pointed out an old Routemaster red double decker bus to Rhiannon. Just in a matter of fact way as she's never been to London. I told her I used to catch one of those to work sometimes.
Then I did a double take.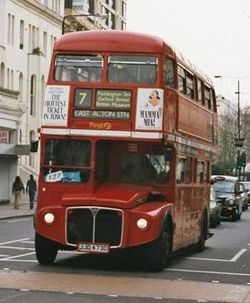 Hang about! A red double decker bus is a LONDON inhabitant, and not normally seen outside its normal environs of the Big Smoke. What on earth was one doing trundling its way down Meiji Dori, Harajuku? And more to the point, how the hell did it get here? These beasts are not known for their flying abilities but it had obviously migrated somehow.
It turned out to be a tourist bus and inside is a bar!
Japan has strong links with Britain as the British Embassy in Tokyo is the oldest surviving consulate, which was built in 1906. A Japanese diplomat in London persuaded London Transport to donate one of these wonderful buses to Japan.
Nice to know these typically English buses have a new lease of life. They'll like it here.